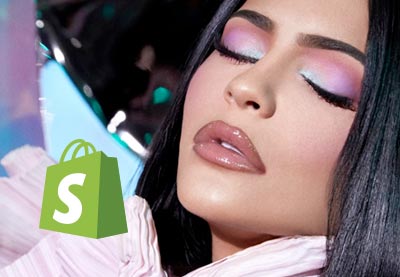 12 Best Shopify Themes for Beauty and Cosmetics Stores
A beautifully designed Shopify store will attract more traffic and better engage visitors. The more your customers immerse themselves in your products and content, the more positive results your sales figures and bottom line will see. 
For beauty and cosmetic stores an attractive design is a no-brainer. Shopify themes help you design the kind of store that will stand out from competition by reflecting your style. 
Beauty and Cosmetics Succeed with Shopify
Beauty and cosmetics brands do really well with Shopify; possibly the highest profile example of this being Kylie Jenner and her success story Kylie Cosmetics.
In fact, Kylie's store is so successful that surges on product launches are a genuine risk; once that tweet or Instagram post announcing a new product goes out shop admins can expect a mad rush to the checkout. Shopify has dealt with this phenomenon in all kinds of ways, but its reliability and server stability has allowed Kylie launches to go ahead without any issues.
"What Kylie's story proved is that entrepreneurship takes on many forms. That bombshell and business savvy aren't mutually exclusive. And, that the future of entrepreneurship is what you make it." – Shopify
And so it's no coincidence that Shopify also powers the eCommerce for sibling Khloé Kardashian's denim line "Good American", which famously brought in $1M worth of sales on its launch day.
If Shopify can handle Kardashian-levels of store traffic, it's clearly an eCommerce platform worth considering for your cosmetics and beauty website.
Stunning Beauty and Cosmetic Shopify Themes on Envato Elements (With Unlimited Use)

You can find loads of awesome and stylish Shopify themes on Envato Elements. It's a great offer: download as many as you want for a single monthly fee. 
Shopify themes on Envato Elements cater for all kinds of niches, but we're going to run through the best themes for cosmetics and beauty, whether you're selling makeup and beauty products, targeting women or men, or even promoting a health and beauty spa. Let's take a look!
Sasha Cosmetics Shopify theme is a stylish theme that is easy to use. It utilizes a drag and drop editor so you don't need to know any coding to use it. It comes with all the essential features your online business might need including product filters, Ajax cart, wishlist, multi-currency, quick links, and product badges. 
You can sort your products in multiple ways such as by featured, best selling, alphabetically, date and price.
Cosmify is a fully responsive Shopify theme that comes with a very sleek and simple design to suit your cosmetic and beauty store. Features in this Shopify theme include: mega menus, layer slider, Google Web fonts, product widgets, brands slider, Ajax add to cart, product image light box, and much more.
The Eli Lipstick fashion & cosmetic Shopify theme is a gorgeous theme for managing your online lipstick store. This theme uses the latest Shopify SEO features and it's easy to customize–no coding knowledge required. 
It comes with 5 types of mega menus, and sliders to help raise the quality of your content. Customers can set up accounts, register, login, change addresses and view past orders. You can easily link your Mailchimp account to the built-in newsletter form, and customers can share what they like by Twitter, Facebook, Google+ and Pinterest.
Dudu Shopify Cosmetics theme is packed with elements that will make your cosmetics website stand out from competitors. Your customers will be able to create accounts, register, login, change their addresses and view past orders. They can sort products by price, A to Z, or newest in order to compare product prices. They can pay using multiple major currencies that are inbuilt with the theme. Finally, your customers can leave reviews on your website. 
Bardy Beard Oil Shopify theme is perfect for selling varieties of beard oil. It's quick to install. It has a neat, clean and simple design. It is equipped with a drag and drop editor that makes it easy to customize your website to reflect your unique style. It also comes with features like Blog Grid, Blog List, and Blog Sidebar that help you write content that engages visitors to your website. 
In addition, there are many options to feature your products like product badges/stickers, product details, product zoom, product popup, and more. 
Simba Beauty Shopify theme has 3 versatile templates that you can customize to suit the requirements of your cosmetics. You can change colors, fonts, and background images through the theme settings. You can create a seamless checkout experience for your customers using your logo and color scheme. And you can also add a custom checkout header to your checkout screens. 
To build a solid customer base and email list you can link your newsletter to MailChimp.        Customers can also share your content by Twitter, Facebook, and Pinterest.
Beauty Store Cosmetics is a stylish and fashionable Shopify theme that displays beautifully across all devices from desktop to mobile. It comes with 5 different styles of the mega menu, 8 types of header, and 8 variants of the footer. You can display products in grid & list mode and also in a product owl carousel. 
Customers can zoom to enlarge a product image, they can add a product to their wishlist, while the product color swatch gives them ability to see products in different available colors. For sales promotions there is a built-in timer countdown. Finally, you have the ability to integrate your store with Instagram. 
Hair salons and barber stores sell a lot of services and products, so finding a specialized theme built specifically for this sector can be hard. 
The Triss Salon and Barber Store Shopify theme is built exclusively to address the problem. It comes with tons of features that make it perfect for the hair business. For example: 
5 types of Mega Menu, 
custom information widget, 
filter products by colors and other parameters using tags, 
an option to purchase the items without leaving current page, 
an option keep your items in wishlist. 
Finally it comes with an advanced slider feature to display your products in formats like: slider, carousel, hero scene, and featured product slider. 
Odour Perfume is a very comprehensive cosmetics Shopify theme that will help you create an outstanding online store. It is quick and easy to install and comes with 3 home page variants, a dropdown menu, slider, and a video banner. 
In addition, it has features that are focused on helping you increase the reach of your business through dropshipping and affiliate marketing. It has Google Analytics for reports that give you a complete picture of your business. 
Finally, Odour Perfume Shopify theme comes with documentation that includes well commented HTML and CSS. 
Avery is an elegant and artistic Shopify theme. Its sleek and smooth design provides a perfect solution for the stores selling hair, cosmetic, and skin care products. 
It is loaded with features that will allow you to build a website that attracts and keep buyers engaged. 
Front-end features include an attractive homepage, about us page, catchy inner pages and contact page. The pages are highly customizable using a drag and drop feature. You can change colors, fonts, background images.  
Be-You Cosmetics Shopify theme is highly flexible and easily customizable. Its comes with advanced features that are guaranteed to make your store visible in a competitive market place. These features include: 
Mega menu that shows product categories, sub-categories, and top links in a single area to provide a perfect way to your buyers to find whatever they need in a few clicks.
Daily deal module that lets you set up countdown time for the daily and weekly deals
Newsletter where your customers can subscribe to keep informed about your latest products and special offers. 
Social network channels where your customers can keep updated with new products and sales. 
Bonita is a stylish and modern beauty/cosmetic Shopify theme. It is flexible and easy to use. It comes with features that help you create a professional online shop that engages your customers. Some of the features include: products sliders that allow you to display your products in attractive ways, an option to show products in a carousel, product sale labels, and a feature that allows customers to compare products by categories like prices, A to Z, and newest. 
You can allow customers to purchase items without leaving the current page, and they can pay with any major currency. 
4 Tips for Marketing Your Shopify Store
Building your online store and launching it is just the beginning! Customers have to know that your store exists. There is very stiff competition. By knowing how to market yourself you will be able make a dent in the market and sell effectively. Here are some tips to help get your marketing game off the ground. 
1. Be Active and Visible on Instagram
As Kylie Jenner has proved time and time again Instagram is very supportive of brands. It provides a built-in and highly engaged audience. Creativity and originality in how you present your store and products to an Instagram audience ensure you are going to build a following. These are leads that you can convert to loyal customers. You have the advantage of being able to interact directly with the audience and building trust. Adding a "Buy Now" button to your products is a big plus. 
2. An Email List Means Repeat Customers
Building an email list is building your repeat customer base. People in your email list end up becoming regular and loyal customers. Sending regular and interesting newsletter emails to your audience creates engagement. Invest in a good email marketing platform like MailChimp and find creative ways to have visitors on your website sign up for your newsletter. 
3. Content is Still King
Blogs are powerful tools for store owners. Content helps raise SEO ranking. This means more traffic. Post regular and interesting content that is useful for customers and that they can apply to their own lives to show that you have more to offer them than getting them to buy your stuff. Think of how knowledge you have gained in your niche can be useful to your customers. 
4. Take it to the Road
Traditional ways of marketing still work. You can hand out flyers. You can go to weekly markets. You just need a stall, card reader, and of course your products. 
Launch Your eCommerce Site With a Great Shopify Theme

The design of your store matters! Alongside performance it is the first thing visitors to your website take note of. Their first impressions may mean staying and engaging with your store or moving on to the next. Have a look at our best Shopify themes and build your online store with a design that reflects your brand.
More Shopify Resources on Tuts+
Here are more roundups with information about Shopify themes available from Envato.