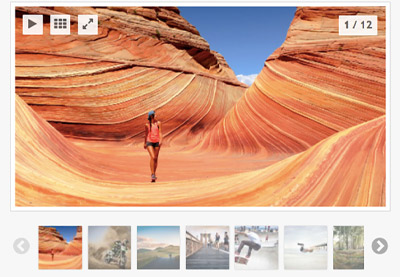 12 Best WordPress Slider & Carousel Plugins of 2020
Whether you want to show off customer testimonials, your latest blog posts, your best images, or just celebrate the members of your team, there is a WordPress slider plugin or WordPress carousel slider plugin out there that's right for you.
But before we share the ten best WordPress sliders and carousels to be found at the Envato Market this year, maybe we should clarify the difference (or the lack thereof) between a slider and a carousel plugin. Some say that there's little difference between the two because they both do a variation of the same thing: display a number of images in a slideshow format while offering some controls like previous and next arrows, thumbnail navigation, and sometimes transition effects between the slides.
Others insist that though this may be true, the important distinction between a WordPress slider plugin and a WordPress carousel plugin is that a slider slides the images horizontally or vertically while a carousel rotates the images on an axis with the image always facing the viewer. While the jury is still out on which is right, for the purpose of this article we'll treat the two terms as interchangeable and get on with the business of revealing the ten best WordPress sliders and WordPress carousel plugins of 2019.
The single most downloaded slider at CodeCanyon, RoyalSlider for WordPress is packed with irresistible features. Used by companies as diverse as Coca Cola, Ralph Lauren, and Land Rover, this plugin does just about everything you could possibly want from a slider.
The most appealing feature is the fullscreen feature with native HTML5 fullscreen support. Perfect for showing high-resolution photography!
Other standout features include:
multiple sliders per page are allowed, even with different skins
touch swipe navigation support
responsive design
vertical or horizontal thumbnails, bullets or tabs for navigation
RoyalSlider will definitely wow your visitors with its clean design and professional functionality.
User frctech says:
"I have used RoyalSlider since 2011. It is reliable, well-designed, well-maintained, and well-supported. On the handful of occasions that I've needed support, answers have been prompt (freaky fast even), intelligent (no crappy canned responses), and have solved my issue."
Slider Pro provides a clean and intuitive user interface in the admin area with a smooth navigation experience for the end users.
Slider Pro avoids unnecessary fanciness, which many times is an obstacle for end users in getting the information they need, and instead focuses on simplicity and performance, while still providing a wide range of customisation possibilities.
My favourite feature is the deep linking feature, where each slide change will update the URL in the browser's navigation bar with the appropriate URL hash. That means users can copy and share links directly to individual slides!
Standout features include:
optimised image loading
easy customisation
smooth animations
multiple layouts
Slider Pro, as the name suggests, is the professional solution you need.
User  LWWCRHI says:
"David was excellent in helping me get my slider to work with special effects. This is not your average slider and can do a lot more. Feature rich and support is really great giving it a 5 star rating."
The Logos Showcase plugin is specifically created for users who want to make a grid of images with external or internal links or need to display a list of clients' or sponsors' logos.
The standout feature with Logos Showcase is the ability to display logos in a grayscale version with the option to display with original colours by hovering if desired.
Standout features include:
choice of three different ways to display images
control of transition speed and auto scroll is enabled
control of default size of logo images
option to set URLs to each logo which can open on the same page or in a new page
Logos Showcase is the slider to choose if your priority is to display logos and lists most effectively.
User cross5 says:
"More than incredible cutomer support. The plugin is really easy to use, all needed features are available. Highly reccomended!"
All Around, as the name suggests, is a really well-rounded slider. It gives you a clean, responsive design, a number of predefined styling options, and support for swipe gestures. Use one of the six layouts or customise the plugin manually as needed. 
Standout features include:
six premade styles
support for videos
vertical or horizontal sliders
supports multiple sliders on one page
autoplay mode
The All Around slider isn't all-around by name only. If this is your first WordPress slider and carousel plugin, it just might also be the last one you'll ever need.
One of the best slider plugins for WordPress, Super Bundle is a collection of terrific elements, settings and tools that are designed to take your WPBakery Page Builder site to the next level with the ability to turn any content into a carousel, add a video light box, animate text, etc.
Standout features include:
parallax background and video background options
over 70 customisable, high-quality SVG row separator designs
13 entrance animations and 14 exit animations
6 unique text effects
video or image thumbnails that when clicked open a large video lightbox popup
What's great about Super Bundle is that apart from creating great carousels, it allows you to add a ton of other cool features to your WordPress site. A great multipurpose plugin.
User  alienflaky says:
"There are more than one reason I gave this product 5 stars. From an awesome product to a solid back-end support, it is definitely a must if you want to customize your WordPress beyond a purchased theme."
Global Gallery is a WordPress image slider that helps you to create awesome galleries from a variety of image sources including Flickr, Facebook or other social media platforms, WordPress custom elements, and any RSS feed. The plugin offers four gallery layouts and also includes both a responsive image slider and a full-featured carousel.
Standout features include:
four gallery layouts
drag-and-drop gallery builder
image tags filter
images slider with fixed or responsive sizing
images carousel with multi-column layouts
With its fast, one-click setup, the Global Gallery plugin will help you create filterable, fully responsive and adaptive galleries on your website in no time.
User mkknop says:
"I am so happy with getting Global Gallery! It is really easy to set up and especially together with the Overlay Manager add-on, I was getting the 'really slow zoom-in' effect I was looking for. Also notable: The perfect customer support from the author, with same-day feedback / solutions. Very recommendable and worth the price."
If you're in the market for a highly versatile WordPress image carousel, Carousel Anything is for you. With Carousel Anything, you can create carousels for any of your content: blog posts, image sliders, video showcases, testimonials, team members, and more. The plugin comes with two designs: one displays your posts in a simple and clean layout, while the other offers a few more design features.
Standout features include:
works great with touch devices
create carousels from your post types
lightweight 
works with any theme
This WordPress carousel slider plugin gives you one of the easiest and quickest ways to create carousels for your website. 
User Pixelschiebr says:
"I really love this add on. I am not even halfway through all the ways I could use it. But so far I use it for Sliders on news pages as well as video Galleries on my pages. It works very well with Visual Composer and I love that I can have all the seetings for background colors etc. Carousel Anything is way simpler and gives me all the options that I need."
Progress Map is unique among the WordPress plugins listed here in that it combines carousel slider features with a Google Maps feature. The plugin's aim is to help users create WordPress sites that provide listings for hotels, real estate, restaurants, job posts, etc. With this plugin, you can plot your listings on Google Maps using markers and then feature the same listings in photos on a carousel—with connections between them! When an item is selected on the carousel, its location on the map is indicated. Likewise, when the marker on the map is clicked, it activates the image carousel.
Standout features include:
carousel can be positioned to the right, to the left, over or under the map
provides clustered map markers for a map with a large number of locations
carousel items are fully resizable and fully customisable
connect plugin with any custom post type
If you're looking for a visually powerful way to display a number of different locations on a map using an image carousel, the Progress Map plugin is a great solution.
User GiulioNF says:
"Insane plugin! Everything you need using maps and front-end, Really easy to customize as well!"
Viba Portfolio is all about showcasing your latest blog posts, portfolio, customer testimonials, etc. to their best advantage. This WordPress gallery slider provides you with four different gallery types, as well as 60 skins to change the looks of your slider easily and quickly. It also offers full control of all customisation features, from layouts to font size to colour and overlays.  
Standout features include:
60 skins
4 gallery types
3 filter types
responsive grid and responsive carousel layouts
Use Viba Portfolio as a WordPress testimonial slider, WordPress post slider, or any other kind of slider you need. It's that versatile!
User galiabrener says:
"This is the best plugin ever! Not only does it look very beautiful, but the customer support is so amazing! Thank you dear Harun for your excellent work and outstanding support! I would recommend everyone to get this beautiful plugin!
Ultra Portfolio will primarily appeal to users who are interested in building portfolios with slider features included. It offers a large number of layout options and really delivers on flexibility and functionality. The most appealing feature of this slider is the ability to control animation effects and animation speed.
Standout features include:
unlimited layouts
WooCommerce integration
Google Font integration
responsive layout lets you control the number of columns for different screens
Ultra Portfolio should be your choice if you want to combine slider functions with a wide range of portfolio options.
User iRoland says:
"Very good and easy to use plug-in for overall portfolio presentations."
Supreme Shortcodes WordPress Plugin allows you to build exceptional pages easily by presenting you with a number of page snippets that you can use as a base to build your pages. It works with Visual Composer Page Builder but doesn't rely on it. The plugin adds over 100 extra functions to your website from static elements like boxes to animated elements like 3D buttons and popovers.
Standout features include:
parallax sections
3D buttons and icons
responsive pricing tables
contact and captcha
Google Charts and Docs
Built on Twitter Bootstrap framework for a responsive design, Supreme Shortcodes gives you 100% accurate fitting on any screen resolution.
User Lightwriter says:
"The pride and enthusiasm SupremeFactory has in their products as well as their care for the customer is evident. The prompt and courteous way my support request was handled has earned SupremeFactory a loyal customer."
This easy-to-use short code that works with WPBakery Page Builder allows you to build a rather nifty slider to showcase your before and after photos. Your website guests will be able to trigger the before and after slider either on a mouse hover, by click and drag or by the use of a scroll bar. The plugin in adjusts to your screen size. 
Standout features include:
horizontal, vertical and diagonal splits
responsive and touch enabled
customiseable border and arrow colours
scrollbars are available in the settings
Before & After Image Slider for WPBakery Page Builder is great for before and after shots of website redesigns, photo edits, make over sessions and more. 
User robCODE says:
"Super. Does what it says on the tin. Compatible, easy to install and looks good."
Choose Your WordPress Slider and Carousel Plugins
That's it for our ten best WordPress sliders and best WordPress carousel plugins of 2019. This is just a small selection of the WordPress carousel plugins and WordPress slider plugins available in the Envato Marketplace. If you don't find what you're looking for here, why not look at what else is available?
Looking for more great WordPress Gallery Plugings? Then check out these great articles featuring all the terrific plugins to be found at Envato Marketplace. 
Furthermore, if you're interested in getting more into WordPress development, don't hesitate to review the many tutorials we have available.
Learn How to Use WordPress
Are you new to using WordPress? Learn how to use WordPress in our complete guide. This guide will take you through the full process, from the basics of creating posts and pages right through to installing and customising your first WordPress theme and setting up plugins for security and performance.