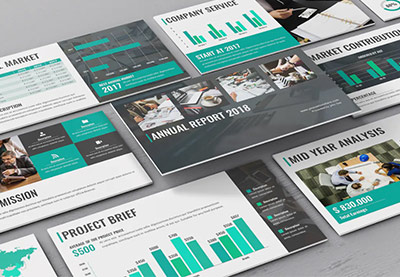 20 Best Nonprofit Annual Report Template Designs For 2019 & 2020
Do you struggle to present your nonprofit's accomplishments and projects in an annual report? Do you know how to organize your annual report clearly?
Detail your nonprofit's mission, growth, and statistics with nonprofit annual report templates. The template will help quickly create an effective report that's easy to understand. 
Annual reports are an integral part of a nonprofit's future success. Use your annual report to attract potential partnerships and sponsors. Report information must be displayed in a professional manner.
Check out all the top-selling nonprofit annual report available on Envato Elements. We've also got the best nonprofit annual report template designs on GraphicRiver.
Best Nonprofit Annual Report Templates on Envato Elements (With Unlimited Use)

Explore the hundreds of the best nonprofit annual report design templates on Envato Elements. For one low monthly fee, download as many annual report templates for nonprofit organizations as you want. You can also download all the other resources available on Envato Elements for your nonprofit such as:
web themes
photos
presentation templates
and more 
All Elements design templates available come ready to use. They feature stylish designs and are fully customizable to help you make the best possible annual report for your nonprofit.
The unlimited downloads that Elements offer lets you try out as many annual reports for nonprofits templates as you'd like. 
Use the nonprofit annual report template designs included in Envato Elements to present relevant financial data and highlight your nonprofit's achievements. An effective report can help generate new business and promote your organization. 
The templates that come with Elements include a variety of features:
images, text, and backgrounds
free fonts 
adobe in design compatibility
modern designs 
complete customization of the templates
With these annual report templates for nonprofit organizations, focus on inputting the information into the template. Don't worry about the design. 
5 Nonprofit Annual Report Templates (From Envato Elements 2019)

If you need to create an annual report for your nonprofit, the templates at Envato Elements can give you a head start. Here's a list of some of our best nonprofit annual reports: 
This template ensures that you've got a visually pleasing annual report to showcase your nonprofit. Join Envato Elements and grab this annual report template for your nonprofit. You'll see how easy it is to create a nonprofit annual report.
This template for nonprofit organizations serves as an annual report. You can also use it as a corporate identity brochure. This stylish and modern looking twenty-four page template can be a great accompaniment to any business meeting. It'll display your nonprofit in a positive light.
Visual Colony created this template to be a showstopper. Images and graphics are the main focus of this design to help you create a stunning nonprofit report. This 20-page template comes ready to print. It's U.S. letter or A4 size. This quality of this impressive-looking nonprofit annual report template can't be found for free. So, join Envato Elements today and get this nonprofit annual report template now!
The key to a good design template is flexibility. Egotype ensures that you can customize this nonprofit template design to fit your exact needs. This template is split up into two parts to keep your presentation organized. The first section is for photos and information about your nonprofit. The second section is for your financial details. 
This minimal template is grid-based, flexible, and ready to print. The 24-page InDesign template gives you a quick and easy way to get your nonprofit template started and completed now. This annual report design comes with PDF documentation, free fonts, paragraph styles, and much more. 
Envato Elements (Design Without Limits)
You can join Envato Elements by taking advantage of their all-inclusive offer.
By signing up for Envato Elements, you'll get access to all the nonprofit annual report templates. You can also access the thousands of unlimited use graphics and templates available. 
You read that correctly! You can download anything you like from the entire Envato Elements library. Included in Elements are graphic and presentation templates, WordPress themes and plugins, photos, videos, and much more. Sign up now!
Envato Elements is a great option if you're looking to take advantage of everything that it's got to offer. But, if you're looking to buy high-quality nonprofit templates one at a time, you can always check out our selection from the GraphicRiver marketplace below. 
The Best Nonprofit Annual Report Templates on GraphicRiver (Buy One at a Time – 2019 & 2020)


In the GraphicRiver marketplace, choose from over three thousand eye-catching nonprofit annual report templates. Like the templates offered in Envato Elements, these templates are a valuable resource to display your nonprofit's financials and promote your nonprofit. Purchase these annual report templates for nonprofit organizations one at a time. 
Here are some of the best-selling nonprofit annual report templates for 2019 & 2020:
Present your nonprofit's financials. Highlight your past success. Or provide more general information to clients or prospective businesses. Whatever your needs, GraphicRiver has annual reports for nonprofits templates to help you create a successful annual report.
15 Trending Nonprofit Annual Reports in 2019 & 2020

This brochure allows you to switch out colors and text is easily customizable. Paragraph styles are properly named. Character styles and pages are layered. The file is ready to print once you fill in all your information into the template.
Here are a few of the key features of this report:
organized paragraph styles
organized character styles
organized CMYK swatches 
each page has its own layer for easy editing
image placeholders to easily insert your images
If you need a stylish annual report template with a minimal design, Contemporary Annual Report Brochure is the right fit for you. Its attractive design and creative layout will be sure to impress. Get a professional nonprofit annual report done in no time with this template.
This five-star proposal template is a great fit for all your reporting and corporate identity needs. This template has a ton of features that'll be integral to putting together your annual report such as:
26 pages 
includes PowerPoint presentation
plenty of image placeholders
The sleek and avant-garde design will help you stand out from all the other annual report designs. This template is much more than a nonprofit annual report. The 24-page template can be customized through text, color, graphics, and images to suit your specific needs. 
Temp-ly: Nonprofit Annual Report Template is a comprehensive report. It'll help you showcase what your business has achieved in the previous year. Whether you're showing this annual report to your boss, looking to gain new customers, or are pitching a new idea, you need a compelling annual report. 
To make an impact when giving a presentation about your nonprofit, you need creative visuals that clearly communicate your business's goals and financials. 
This nonprofit annual report template features a modern design that's made to persuade. Whether you need to pitch investors, showcase your company at a conference, or let people know about your nonprofit, this annual report has what you need.
The Annual Report Template is perfect for the publication of a complete report. The first section of the template showcases your company through photos and a narrative to help the reader understand your nonprofit. The second part contains the financial details with graphics to engage the reader.
Annual Report Proposal Template is a beautiful multipurpose annual report brochure template. It's got a clean and modern design that's fully customizable. What's great about this template is that anyone with a very basic knowledge of Adobe InDesign can customize it.  
This nonprofit annual report was created to ensure that you're presenting your nonprofit in the most attractive way possible. This report has a five-star rating and excellent reviews like this one: 
"Awesome brochure as always! Super fresh and clean!"
Grab your copy of this highly rated annual report now!
Present your nonprofit with this contemporary 24-page brochure. The brochure is so flexible that you can easily turn it into a 52-page brochure. The creator of the template made sure to give you plenty of ideas to help inspire you to share all the information that'll help present your nonprofit. As a bonus, you can also choose between five different cover options.
This annual report template is divided into two parts. The first part contains photos and a narrative to provide all the pertinent information about your nonprofit. The second part contains the actual financial details displayed in text and graphic form. 
Greenishco nonprofit annual report is a clean and professional 16-page corporate business brochure. All you've got to do is add in your own pictures and texts, and you'll be ready to print the report out. 
The brochure works great as a corporate identity brochure as well as an annual report. Plus, you could also showcase a new project for your nonprofit as there are a few pages in the template dedicated to this.
If you're looking to display more than your nonprofit's financials, then this is the template for you. This template will tell your entire organization's story in a graphics-rich booklet. 
This design has pages for you to add your business's policy, history, strategy, and timeline and is print-ready.  
Annual Report 2019 is an Adobe In Design template that features a creative layout using modern graphics. Change the colors in the template to match your brand. Create a section for your nonprofit's team members. Showcase what clients are saying. Or, insert tables and charts. Grab this all in one template on GraphicRiver now!
This graphic rich template will draw the attention of prospective clients. It comes with:
11.69×8.27 size 
24 print-ready pages
CMYK color mode
help documentation
Use this to create a nonprofit annual report that your team and potential partners will want to read. Like all the other annual report templates for nonprofit organizations listed here, the design is easily customizable and has the features needed to fit your specific nonprofit. 
What Goes into a Nonprofit Annual Report? 3 Quick Tips for 2019 & 2020
To get the most out of the templates presented in this article, make sure you've got a plan to put in place. This will ensure that you're presenting the most valuable information to whoever reads your report. It'll also give your nonprofit the best chance of attracting more donors.
Below I'll share a few tips and techniques you can use to create a complete nonprofit annual report. 
1. Create a Plan
When your nonprofit takes on a project, the first step is to create a strategy. The same approach goes for your annual report. Here are a few key pieces of information that you'll need to gather to make the most out of the report
collect all your financial statements
collect fundraising metrics 
collect feedback from your nonprofit's supporters 
2. Structure the Nonprofit Annual Report
The structure of your nonprofit annual report must be laid out in a way that shows all the essential information. Structure your report to ensure the reader of the report understands what your nonprofit is about and where it's heading. Here's a suggested outline:  
clear mission and focus
list of projects you initiated
financial statement
details about major contributions
Using this structure will give your organization consistency and create a foundation for future reports as well.
3. Write the Annual Report
When it comes to the actual writing of the annual report, you'll want to make sure that you're presenting your nonprofit in the best light possible. But, be honest. 
Here are a few points that you'll hit on and a few items to add to the report. 
Focus on your donor's accomplishments. It can be easy to get caught up in your organization's accomplishments. Highlight the contributions that donors made to help support your projects. This shows whoever reads the report that your nonprofit was built by passionate supporters
Use visuals to keep readers engaged. Annual reports for nonprofits contain plenty of numbers and text. These numbers and text can be quite overwhelming to the reader. Use visually appealing graphics, charts, tables, and graphs to make the data easier to understand. 
Be honest about the performance of your nonprofit. Show any mistakes that you've made in the past and solutions on how you plan to correct them. This will show potential contributors that you're proactive in solving your organization's problems.
Inspire supporters to take action. Like any good landing page or marketing email, you need a call to action. Let your readers know what they can do after they read the report. This will be a great time to ask for donations and let them know where they can do so. 
Get Your Nonprofit Annual Report Today!
If you need to put together a professional-looking annual report in a hurry, then start with one of the best nonprofit annual report templates from Envato Elements. 
A professionally designed annual report template for nonprofit organizations save you time and money and gives you the flexibility to shape the report to fit your nonprofit organization. You won't have to hire a graphic designer to create an eye-catching template. 
Besides all the templates on Envato Elements, there are also three thousand plus premium annual report template designs available on GraphicRiver for a one time purchase.
Finding a design that helps you present your nonprofit in the best possible way is an absolute must when constructing an annual report. So, take advantage of Envato Elements and GraphicRiver today!