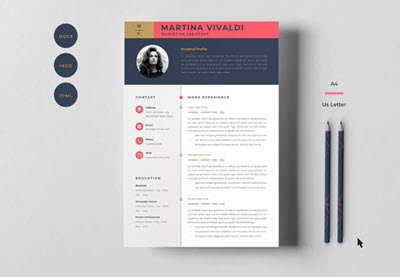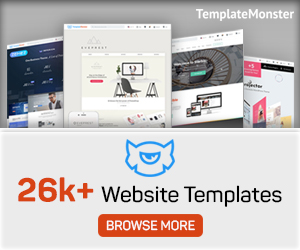 There are usually more applicants than jobs. For hiring managers, sifting through a huge stack of resumes takes time. As a job applicant, you've got to differentiate your resume.
That's why you turn to pre-built resume templates from GraphicRiver or Envato Elements. You could open an app like Microsoft Word and try to draw a resume from scratch. But it would be better to use one of these cool resume templates to stand out from the crowd.
These creative colorful resume templates are useful because they provide ideas. You don't have to think about how to organize your content or what a resume needs to contain. These cool templates already have it. Just download one of these templates, then add your own details.
Not every cool resume has to be barebones and minimalistic. Add a bright and eye-catching splash of color to make sure that your resume makes its way to the right person. You'll also increase your chances of getting the big job.
Find Colorful Resume Templates on Envato Elements (With Unlimited Use)
To find a colorful resume, be sure to stop by Envato Elements and check out the selection of beautiful resume templates that stand out.
Envato Elements is a subscription-based, premium marketplace. It's got hundreds of colorful resumes that are easy to customize.
Each colorful resume template comes in a beautiful color scheme. Plus, each one includes a matching cover letter so you've got the complete package when it comes to sending out job applications. 
10 Best Colorful Resume Templates from Envato Elements (For 2019)
Here are a few interesting and colorful resume templates that are available for download with Envato Elements subscription.
A timeline approach to showcasing your experience is a great look. A timeline can help the hiring manager understand how your past experiences connect to the future. Just add your own past education, experience, and achievements to this along with a catchy headline.
This package is a great choice thanks to the following options:
works with Adobe InDesign and Microsoft Word
free fonts utilized
print-ready with CMYK color palette and high-resolution print settings
Despite what the name implies, this resume template could be used for far more than those working in the Fashion industry. The clean design with a splash of color around the edge is a major step up over any of the default templates in apps like Microsoft Word.
This template includes options for both Microsoft Word and Adobe InDesign. It includes free fonts and icons. So, you don't have to worry about purchasing anything else to complete the resume.
Just because you want a minimalistic and simple resume doesn't mean that it's got to be devoid of color and creativity. Aria strikes this perfect balance between ease-of-reading and enough creativity to make it stand out.
This colorful resume template is easy to customize in Microsoft Word and Adobe InDesign. Open it up. Choose your own color palette (if you wish). Then, add your own details to quickly prepare a customized template.
Designer – Best Resume Colors template cuts straight to the chase with a bold introductory section. It has space to "put a face with a name" in the form of a profile picture. Plus, the introductory paragraph will help you introduce yourself rapidly. On top of that, the colorful name section is sure to grab the employer's attention immediately.
resume, cover letter, and front resume templates included
works perfectly with InDesign and Microsoft Word
multiple print formats and color settings make it ideal for printing
Melisa is also a great opportunity to use stock photos that are available as a part of an Envato Elements subscription. The background of the resume can easily be substituted for another stock from photo Elements' lineup.
use with Adobe InDesign and Microsoft Word
easy to update and substitute your own details into
print-ready settings built-in by default
The bold typography, professional colors for resume and clean lines make Olivia the perfect choice for work in the creative space. Add your own photo and experiences to help get your message across.
I like Olivia's approach to using a single bold color. As with many of the choices in this round-up, it's enough to stand out, but not enough to distract the reviewer from the content at hand. This is a premium template with the best colors for CV that helps you stand out. Go premium and don't take the risk with free colorful resume templates. 
These color resume templates have a few file types that are exclusive to it. That includes the resume, cover letter, envelop, CD, and CD cover. If you're going to make an impact, think about taking the time to design each of these when you deliver your portfolio to make sure that your resume isn't missed.
compatible with Photoshop and Illustrator
CMYK print-ready
icons and documentation both included
best colors to use on a resume
This standout resume template is another selection that strikes the balance between form and function. It's got just enough color to stand out from basic resume templates. Plus, Melisa includes icons and sections that are a breeze to update with your own details.
Adobe InDesign and Microsoft Word formats
print-ready with CMYK and multiple paper formats
free fonts utilized
best colors to use on a resume
CMYK and 300-dpi settings to make sure these print perfectly
extremely easy to build and customize with practically unlimited combinations of content
best colors to use on a resume
Rounding out our selection, this ultra-clean look embodies the simplicity and best color for resume combination. You'll feel confident with this resume template. It's easy-to-read. It also breaks down your experiences into content blocks that a reviewer can easily process.
Envato Elements (Design Without Limits)
Envato Elements has a single compelling (all inclusive) offer:
Sign up for Envato Elements. You'll get access to thousands of graphics and templates (with unlimited use). Choose between creative website themes to resume templates that stand out, and more—all for one low price.
That's right! Download as many standout CV templates and graphics as you want, then customize them to fit any of your project needs.
Envato Elements is a powerful option. But, if you prefer you can buy new funky CV templates one at a time (instead of getting unlimited access to hundreds of designs). Check out the selection from our GraphicRiver marketplace below.
15 Cool & Colorful Resume Templates From GraphicRiver (for 2019)
You can also find colorful resumes and standout CV templates on GraphicRiver. This is another premium marketplace, but here you can buy items individually as you need them.
Here are 15 different and unique standout resume templates that are available from GraphicRiver . Use these to make an impact with your CV/Resume.
This template's got a creative use of color. It's a fully featured approach to showcasing your job experience and accolades. Specifically for Adobe InDesign, there are sections for your personal info, education, experience, and more. 
I like this premium template because it looks great when printed. If you'll be handing off a physical copy of your resume (as opposed to uploading the digital version), this is one of the best choices I've seen. Something color resume templates for free download found online can't guarantee. 
Here's a colorful resume templates that stands out. It's a great choice because it hits the sweet spot of simplicity and creativity. It's also easy to edit and customize unlike many free colorful resume templates out there. The bold color highlights are just enough to set the resume apart from other minimalistic choices.
Here's why you should give this creative resume template a try:
CMYK print ready
fully editable
300 DPI
This creative best colors for CV template package is like a kit that allows you to design a variety of resumes. It includes four different resume color schemes and dark/light options. So, there's something for everyone inside of this package. It's a high-quality premium template, unlike many color resume templates for free download found online. 
print ready with CMYK color palette and high-resolution design
works with Adobe Photoshop, Illustrator, and Microsoft Word
The Swiss school of design focuses on the "less-is-more" philosophy of design. The Neue Swiss Resume – Best Resume Colors Template embodies this perfectly. It's got simple elements and a bold use of best color for resume that are sure to help your resume stick out from the crowd. This would be perfect for a design or creative job application, unlike loads of free colorful resume templates you get online. 
A4 and US letter sized print options
high-resolution, CMYK print palette
best colors to use on a resume – five color options for multiple use-cases
X-Clean Simplistic – Best Colors for CV Template is perfect as a first choice because it contains so many options. An indecisive applicant can use this best colors for CV template as a jumping-off point to decide between the many options inside this package. Create the best creative resume that you're proud of, to present to potential employers. 
formats include Photoshop, Illustrator, and Microsoft Word
uses free fonts for an all-in-one package approach
best colors for CV template – four color schemes and light / dark versions create over 80 files in total
If I'm going to buy a file to use for my own projects, I like to make sure that it's got variety. This Simple Resume – Creative Work Best Colors for CV template fits the bill perfectly. It's a breeze to edit in the app of your choice and has plenty of features to make it a top choice:
six different best resume color schemes
works in Photoshop and Microsoft Word
ready for print with no additional settings required
A color CV can be so much more than a single page file, and this package is a perfect example of that. Build out a portfolio page, cover letter, and more with this single file. With simple, cool resume templates that you can customize and add a bright splash of color. This allows you to be in full control of your customization. This one's a great choice when using color in resume unlike many risky color resume templates for free download you find online.
Material design is all the rage now thanks to Google's inclusion of the style in most of its apps. The minimalist and easy-to-read style is favored for its modern look, and this resume incorporates it perfectly. Using color in resumes doesn't have to be complicated or time consuming with a premium template like this. Unfortunately, color resume templates for free download found online can't guarantee this. 
Photoshop, Microsoft Word, and vector versions included
easy to update with "content blocks" to showcase your work
matching business card template included as well
best resume color scheme
Here's another great choice that feels more like a full sales package for yourself than a simple cool color CV. Think of this as more of a pre-designed application book than a way to apply. In creative industries, you'll get jobs on the back of your work, so why not showcase it front and center?
usable with Adobe InDesign
A4 and US letter formats for great-looking prints
easy-to-customize grid approach
best resume color scheme
Bold and punchy, the Clean Colorful Resume package is sure to make an impact. It's a perfect choice for a first application since it focuses on less content and putting more front-and-center.
Microsoft Word and Adobe InDesign template designs
over 22 different colorful CV templates that can be customized
free fonts you can grab as part of the package
Using color in resumes can be tricky, but with this 3 in 1 bundle of colorful CV templates, you'll have enough selections to pick from. Impress your future employer with the help of this professional yet lively colorful CV templates. 
This professional, modern and simple resume comes with two resume pages, a portfolio, and a cover letter template. It was created in Adobe Photoshop and Illustrator. But this file includes a Microsoft Word version so users with various skill sets can use this template with ease. Edit these cool resume formats so it fits your needs and start your job hunt now. 
This professional yet cool standout resume template was created to make the job application process easier and effective. Buy and download the file. Customize your resume and cover letter. Contact the author if you need additional pages. Save your edits and send it out to apply for your dream job. It's that simple! 
This bundle is perfect for you if you're still uncertain whether you should be using color in resume or if you should stick to the traditional grey scale. It's fine to be hesitant and stick to the familiar, but it's always nice to have a few options should you decide to try something new on your resume. This Best Resume Colors Bundle offers you just that. 
These professional but funky CV templates (resume + cover letter) are yet another perfect choice for someone who wants to create modern cool resume formats by using color in resume. Edit and customize this file on MS Word, PSD or Illustrator quick and easy, allowing you to apply for a few roles in a matter of minutes. 
The Best Resume Color Schemes (Palettes For 2019)
The whole point of a colorful resume is to make it stand out more and catch the attention of potential employers. All the cool templates on our list already come with pre-made color schemes. Yet, you can easily customize them to match your own style. Here are a few trendy resume color schemes to keep in mind and use as an inspiration for your resume.
1. Vibrant and Creative
The first palette is vibrant and creative like what you can see in the example resume below. The colors instantly make your resume stand out and direct attention to particular sections. These types of resume color schemes are perfectly suited for anyone applying for a position in a creative industry.
2. Classic Black and White
A classic black and white combination never goes out of style. This classic resume color palette says you're a traditionalist at heart. It's best suited if you're applying for a corporate position in a company with a long history and tradition. It can also be used if you want an elegant resume to apply for a position in a high-end jewelry or fashion company.
3. Material and Modern
Another trendy resume color palette uses material and modern color hues. Think blue and red as the primary colors. The palette is perfect if you're aiming for a position in a young and innovative company. This gives off the impression you're staying on top of current trends.
4. Minimal and Professional
A minimal color palette is another safe choice. It allows you to add a dash of color without going overboard. The minimal and professional color palette works well for any job industry. So if you're not feeling confident about mixing colors, opt for a minimalistic color palette.
3 Top Resume Writing Tips
Now that we've covered some of the best colorful resumes, let's review some tips that you can use while writing any type of resume. Using these approaches alongside one of the templates covered above is a surefire way to succeed.
1. Make Metrics Count
Many jobs focus on what you achieve through metrics, or calculated metrics of what you accomplish in a role. Calculating your own contributions to a team is crucial and should be incorporated in your job resume.
This could be a cost-saving project, new business you captured, or the way that you changed the results of a company. The hiring manager will want to measure your successes.
2. Focus on Strengths
Do you know your strengths? If not, you've got some thinking to do before you start writing your job resume. Focusing on the strengths that you bring to the table could help you land your next job.
Hiring managers are going to filter through your resume to find those keywords and match them against the job posting to determine their top candidates.
Match your strengths to the role that you're applying for. Read carefully the job posting, then spend time writing the resume points that put your best foot forward.
3. Let Your Skills Shine
Let's say that you're applying for a project management role in a company as a fresh graduate. The only problem is that your only work experience is in customer service at a coffee shop during college.
Those roles have more in common than you might think. In any customer-facing role, you're going to develop the people skills that you need to succeed. That's why you've got to write your bullet points so that you showcase the "common" parts of your roles. Basically, letting your skills take center stage will help the hiring manager see you as more than your past roles.
When you're writing the resume bullet points, it's all about how you showcase your experience. Focus on the skills you developed, not the specific tasks you carried out.
More Great Resume Designs for 2019
If none of these cool resume templates are up your alley, no problem. We at Envato Tuts+ are always compiling the best of the best from around the web for stand out resume templates. No matter what type of job you're applying for, there's sure to be a resume in the selection below that could work perfectly for you.
Where to Find the Best Standout CV Templates in 2019 (Envato Elements vs GraphicRiver)
Both Envato Elements and GraphicRiver have trendy, popular funky CV templates with high-quality visual designs. They lead the pack in 2019. But, should you use GraphicRiver or Envato Elements? And, what are the key benefits of each?
1. Key Benefits of Envato Elements
Envato Elements is a premium subscription service that gives you unlimited creative template downloads for a single monthly fee. That's a powerful offer. 
Download as many colorful resumes you need to use at any time, as well as: web templates, fonts, add-ons, and graphic assets. There are loads of quality cool resume formats with on-trend designs available on Envato Elements:
2. Key Benefits of GraphicRiver (& Envato Market)
GraphicRiver is the leading digital marketplace for purchasing single-use graphics and visual assets. It's part of the Envato Market suite of online marketplaces that cater to many creative digital asset needs.
For cool resume formats to use right now to land that job, head over to GraphicRiver. Make your purchase and download your files. It's great when you don't need other graphic assets web templates or even audio files. Here are the best funky CV templates that are currently trending on GraphicRiver:
Your Choice (What's Right for You?)
If you're a professional resume writer who helps people with their resumes, a serial entrepreneur launching new brands regularly, a digital marketer with multiple projects to promote, or a graphic or web designer with numerous clients to serve, then Envato Elements offers a great bang for your buck. Sign up for Envato Elements now.
For a template with professional colors for resume for a job application or another file type to download right now, then head over to GraphicRiver (or another Envato Market site) to find what you need.
Stand Out With a Colorful Resume Template

To increase the chances of getting hired, you need to use a resume template that'll help you stand out. 
You can find plenty of great and colorful resume templates on Envato Elements. For even more colorful resume ideas, stop by GraphicRiver and browse through our collection of color resume templates.
For a truly eye-catching resume, download one of our cool resume formats now.
Editorial Note: Our staff updates this post regularly—adding new colorful resume templates with the best, professional designs.