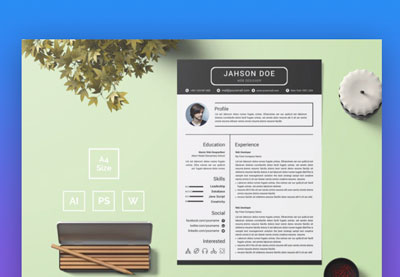 29+ Best Contemporary (New Styles) Resume CV Templates (For 2019/2020)
Looking for a job? The job market in 2020 is more competitive than ever. Competition for jobs is no longer local. It's global. 
In today's global market, you've got one choice. Build a stunning resume that captures attention. Here's just one example of an attractive resume design on Envato Elements:
You've got to stand out, beginning with your resume. Regardless of your experience or education, your resume must clear the first hurdle. 
In this modern job market, modern resume templates for 2020 are essential. New resume designs strive to match what recruiters are searching for. Contemporary CV templates take the hard work out of resume-building. You get pre-built, professional-grade content to work with. Find these new resume styles on Envato Elements and GraphicRiver.
With these modern resume styles, you only have to swap the placeholder content with your own information. You'll still have advanced modern resume style accents. Working from a template takes the grunt work out of creating a resume and allows your record to speak for itself. 
Let's take a closer look at modern resume templates for 2020.
Where to Find the Best Resume Templates
The best new resume styles for 2019/2020 can be found on Envato Elements. It's an all-you-can-download service for creatives. It features a vast array of stunning assets—graphic templates, projects, images, and more. 
For a low monthly fee, you can unlock unlimited access to the full Elements library. 
In 2020, there's no reason to waste precious time building your contemporary CV design from scratch. Instead, choose a template from Envato. Drop in your own content, and approach your career move with greater confidence!
5 Best Contemporary Resume CV Templates (From Envato Elements 2019/2020)

Ready to start? 
Here are a few of the best contemporary CV templates available on Elements for 2019/2020:
Great design transcends time, as this new resume style vividly illustrates. Well-suited to endless careers and industries, this template has a linear flow. Profile information leads to a brief biography, to set the stage for who you are as a person. And then it splits into two columns to show off your education and experience. 
Best of all, this resume is editable in a variety of software platforms to ensure it's fully usable for you. Full customization options paired with a free help guide make this one of the simplest and best new resume styles available.
Most resume templates are built around two themes: education and experience. Of course, this is great and very useful. But it doesn't capture the full picture for many job candidates. Critical skills may not be readily associated with a certain position or academic program.
That's where templates like this one come into play. One of the best resume styles you'll see in 2019/2020 is a skills-based resume. And that's what this spectacular template from Elements is. Highlight, rank, and score your skills and expertise in a vivid sidebar to capture attention at-a-glance.
"Simpler is better," the adage goes. This also applies to modern resumes. Too many graphics, illustrations, and fancy text effects only distract. Keep it simple. Let your story speak for itself.
The new Blair resume template is perfect for this. A vivid title bar and headshot placeholder set the stage for the full narrative below. Flashy graphics are omitted here. Instead, you'll find space for all your relevant details, contact information, and references. 
Elements is an all-you-can-download service. But that doesn't mean some templates don't add more value than others. This is a prime example—a single new CV design template brings you both a refined resume template and a matching cover letter template. Recruiters award a lot of points on style. Your resume and cover letter must align in both content and design.
Both documents have matching sidebars for a profile photo, contact details, and reference listings. Insert your own content into the pre-built placeholders on the right side. In a few minutes, you'll be packing a powerful one-two punch of both resume and cover letter to help you land your dream job in 2020.
If you want to make a bold statement with your new resume style in 2020, you've found the perfect modern CV template. This fully editable Adobe Illustrator template jumps off the page. Bright color accents at the top contrast nicely with traditional content blocks at the bottom.
Spend some time adjusting the colors, fonts, images, and more to make this contemporary CV design your own. Illustrator gives you a full arsenal of creative tools to build the best contemporary resume format possible. All you need is to add your record to match.
Envato Elements (Design Without Limits)

Envato Elements gives you everything you need to come up with the best contemporary CV design, without limits.
When you sign up for Envato Elements, you get unlimited access to thousands of contemporary CV design templates. All are created by professional designers. Plus, you get fonts, icons, photos, and other creative design elements. 
You read that right. Everything in the Elements library is available to you, with unlimited downloads, for one low subscription price.
25 Best Trendy Resume Design Format Examples (From GraphicRiver for 2019/2020)

Elements is great for unlimited downloads. But it isn't the only option Envato has to offer. Let's check out GraphicRiver, which is built on a pay-as-you-go model. At GraphicRiver, you don't pay an access fee. Instead, you pay each time you use a template. 
Here's a sample of modern CV templates you'll find on GraphicRiver: 
GraphicRiver is great if you just need one template to revamp your resume style. Let's dive in and check out 25 of the best modern resume templates for 2020 available on GraphicRiver.
Want to show your creativity, even if you're applying for a traditional job? This modern CV template stands out nicely with its burst of bright color. Lines and borders organize the information and make the document scannable. This resume style is for two pages. But if you need more, the designer is willing to provide them.
With files for Microsoft Word, Mac Pages, Photoshop, and Illustrator, this template pack is fully editable. It also includes a coordinated cover letter template, which you can also use as a thank-you letter. And with detailed instructions and customer service, you'll always feel supported while customizing this resume template.
Black corner tabs in this modern resume format for 2020 focus attention on the content of your resume. The overall aesthetic is clean and minimalist, making both you and your resume look current, indeed. But don't let the simplicity fool you. A single accent color is all you need to make this resume pop.
Customizing this template is simple. You can edit it in Microsoft Word. It comes with files for Pages, Photoshop, and Illustrator as well. The entire package accommodates one- to three-page modern resume format for 2020. It also includes a template for a coordinating cover letter.
This beautiful three-page contemporary resume template is 100% editable. That's right! Change all text, shape, sections, or color, quickly and easily to suit your requirements. Make these edits with Microsoft Word, Mac Pages, Photoshop, or even Illustrator. 
This new style of CV is perfect for any industry in 2020. Create your modern, clean and minimalistic resume now to land that dream job you've got your eye on. 
If you want your professional experience to take center stage, then this is the resume template to consider. The section for experience is front and center in this resume design. The layout and color choice exude professionalism and sophistication. 
Using only free fonts, this template is fully editable in Photoshop and Microsoft Word. Also included is a cover letter template. This A4-sized resume template is print-ready at 300 DPI.
Sometimes, the minimalist look is best when building a modern resume format for 2020. This template from GraphicRiver meets this need with a clean layout built around white space. Rest assured it isn't bland, though. The profile section at the top of the page sets itself apart with understated, yet catchy design.
This template includes a matching cover letter template to build a full career package to market yourself. It's also super-versatile, supported in Adobe's Illustrator, Photoshop, and Microsoft Word. This flexibility makes edits possible from almost anywhere.
Here's another option for a combined resume and cover letter template. This new 2020 resume format is straightforward and to-the-point. You won't find a lot of graphics and vibrant colors here. Instead, this resume template is meant to make your expertise stand out. It's weighed heavily towards work experience, placing it front and center on the page.
This template focuses on efficiency in both style and communication. Big bold letters make your name leap off the page, with a complementary image placeholder. Contact details are packed into minimal space. A brief profile paragraph segues into a discussion of relevant experiences. 
This template comes with well-organized files that make editing easy. The simple use of color highlights headings and draws attention to your contact details, skills, and references. It helps direct the readers' attention to significant bits of your resume. 
Freely edit this template on Photoshop, Illustrator, and Microsoft Word. Create your resume and matching cover letter with this simple design and start applying for jobs now.
Recruiters will often view hundreds of resumes for a single posting. Thus, it's imperative that you keep yours to a single page. Some hiring managers go so far as to discard long resumes. Brevity is a must in 2020. This polished template is designed to maximize the content placed on a single page.
You'll find a grid-pattern layout to ensure everything you've got to say fits cleanly on a single sheet. Headshot, profile, contact details, experience, education, and skills—you'll find it all right here. Thanks to compact, careful styling, everything essential fits on one page. 
And if use more than one, you'll find even more content placeholders built for that, too. This template truly meets any need.
This modern resume format for 2020 can easily simplify your work experience and past projects while highlighting the significant bits. It helps turn a what would have been a lengthy resume into a short and sweet one-page document that packs a punch.
It also comes with a matching cover letter. So, you can quickly mention why you think you're a good fit for the job you're applying for. Be sure to explain what you bring to the company.
Often, columns are the best, and simplest, way to set apart two types of content. This contemporary resume format is no exception. You'll find a profile column on the left and a body column on the right, in which you can outline your knowledge and experiences.
Built for both the Adobe suite of creative software and Microsoft Word, this is an easily editable and eminently flexible template. It can meet the needs of any professional. If you're looking for the best CV design 2020, it's hard to go wrong with this quintessential career catch-all.
Too many modern resume examples in 2020 are bland and colorless. When you're building your contemporary new-style resume for 2020, one way to set yourself apart is through the creative use of color. That's where contemporary resume formats like this one hit their stride.
Especially well-suited for creatives and freelancers, this resume template delivers an unforgettable new style of CV in a compact package. It's quirky enough to capture attention, but professional enough to deliver the right message to a recruiter. Give this one a look if you want to build something different.
The timeline approach marries the past and present. It's one of my favorite approaches in resume building. Linking those past jobs and skills will show the recruiter why you're the perfect choice for their job opening.
Customize this template with InDesign. It makes great use of free fonts and is print-ready, thanks to its CMYK color schemes and high DPI.
To make your style even more distinctive, it's hard to go wrong with this sleek and straightforward modern resume templates for 2020. It includes everything professionals expect in a top-level resume and, just as importantly, nothing they don't. This one sets you apart in a positive way.
Even better, it's easily customized and edited on a mix of software platforms. Word, Pages, Photoshop, and Illustrator all have their own templates in this package. This stands out because of the included multi-purpose letter template. Use it as a cover letter or as a thank-you message to seal the deal.
This urbane new CV design style embodies the "less is more" approach. Sections are set apart by generous line spacing and whitespace breaks. That's why it's ideally suited for early-career professionals who may not have many positions and degrees to list. Rather than clustering limited experience together, this template subtly transforms the shortage into something visually appealing.
Nothing says inexperience like a half-page resume with a conspicuous empty bottom half. Focus on the profile section to tell your story. The remaining content placeholders will smoothly fill in the gaps. You'll be primed to make your next career move and start building a more robust resume in the future with a big story to tell.
This option is built especially for creatives and academics. Traditional resumes often don't incorporate sections for academic experiences like research and coursework. But this one fills the niche handily. The usual experience, education, and reference sections are present to tell your story. Also, focus on the value-add offerings the template includes.
These special sections are perfect for things that are hard to quantify—experiences gained outside of the workplace, extracurricular work, research on a passion topic. But these things are key in academic and creative settings and often make the difference in hiring decisions. Present the full package right here.
There are a lot of contemporary resume templates for 2020. Some stand out for pure visual appeal. This trendy layout is at the forefront of modern resume examples for 2020. The profile section features placeholders for a profile or biography, plus a table to feature your social media channels. Although it's geared towards designers and creatives, this powerful template could serve almost any career. 
You'll also find sections to communicate soft skills not confined to the normal education and experience. Show off your expertise on the first page. Rank and score your skills on the second. And even briefly mention hobbies. In 2020, hiring managers increasingly focus on work/life balance and the full measure of a person. Constructively sharing what you enjoy outside of work makes you more appealing as an individual—and a candidate. 
This 2-in-1 bundle builds a discerning aesthetic and then divides into two completely unique style options. The modern resume example 2020 is compact and works perfectly as a one-page document if you're looking to keep things short. But when it comes time to select a color option, you've got two distinct and bold choices.
Choose a stylish yellow-and-black sure to create buzz and make you stand out. Or keep things understated with the bold contrasts of a grayscale color palette. Try out both options and see what fits your personal brand best. The included cover letter template uses the same styling. So, you can easily build a matching set. 
Browsing GraphicRiver for the perfect modern resume style, but not sure exactly what look you want? Save time and money by choosing this 3-in-1 pack. In a single download you'll get not one, but three unique, polished, and customizable layouts. Each includes a matching cover letter.
Beyond small differences in layout and style, the primary contrast in these three is in the color palette. A vibrant blue and black, an understated white and gold, and a simple grayscale give you a tremendous trio to choose from. The fonts used are free. So, you can mix and match text to inject even more variety. 
Often, the best resume format is the direct, unfussy style without pretense. That's what you'll find with this contemporary CV design. Remember, your resume might be one of the hundreds that arrive for a position. It pays off to communicate quickly and simply. And for detail-oriented jobs, brevity, and refinement show off your talents subtly but surely.
Headshot, contacts, education, skills, experience, and references—all fit on page one if necessary. In the business world, it's often best to follow the single-sheet rule. This template pulls the pain away from laying out a resume. All you need to do is fill in the text and image placeholders and make your career moves with newfound confidence.
Over and over, we've seen bold flashes of color splashed across contemporary resume examples. Yet, this doesn't diminish the infinite appeal of binary contrast. This template is suited for any career at any time—and it'll save you ink, too. It's all black and white here, even the optional headshot. 
With a cover letter template built in and the ability to edit in Microsoft Word, you can build a professional resume in just a few clicks. That's why this one template stands out. You don't need expensive and complex editing software or a high-quality printer to create a perfect resume in a flash. Any computer running Word with a laser printer will put you on your way.
This clean and simple resume CV template and cover letter come in landscape and portrait orientation, allowing you to pick what works best for you. The files are easy to customize in Microsoft Word and even Microsoft PowerPoint. It's also compatible with Photoshop and Illustrator. 
This well layered and organized template is a dream to work with. Make that move to get your dream job now.    
We've arrived at another versatile format that meets the needs of any job candidate in 2020. 
Just like the template above, this new resume style sticks to two colors: black and white. Compatible with Microsoft Word and Adobe's Photoshop and Illustrator platforms, you can make a statement with the modern layout and high-flying cover letter template. Use the default layouts or mix and match content placeholders to make the documents your own.
Be sure to consider alternative uses for the cover letter as well. Not all positions require this letter of introduction. If they don't, recycle the template and use it as a thank-you letter to the hiring manager. Credentials and interview performance don't always seal the deal in 2020's competitive global job market. The conscientiousness and discretion behind a word of thanks might be the tipping point for you to make your dream career move in the coming year.
This modern resume template is a two-page resume document that's sure to impress. Best of all, this resume is editable in a variety of software platforms to ensure it's entirely usable for you. Showcase your education, work experience, skills, languages, awards, expertise, and reference in a modern and stylish way. 
Create a resume and matching cover letter that creates an excellent first impression. It's got all the information a hiring manager needs to call you in for an interview. 
Recruiters will have a hard time ignoring this attractive modern resume 2020 template! Its use of colored columns, icons, and rotated text make it stand out from a sea of bland modern design resumes. Use this modern resume style and you'll come across as someone who's on the cutting-edge, a professional with an eye for detail.
Although this resume is extremely creative, it's not at all intimidating to edit and make your own. In fact, the template includes files for Word, Pages, Photoshop, and Illustrator. It also comes with detailed instructions for customizing both the resume and cover letter templates.
Show your maverick side with this Professional Modern Resume 2020 template. Its creative layout is anything but ordinary. The work experience section uses a simple timeline. Rank your skills with simple infographics. And show your interests with flat icons.
You'll have everything you need in this pack. Aside from the resume templates, it also includes a template for your cover letter and references page. You can edit every single element of this resume design, from the content to the colors, fonts, icons, and sections. Whether you use Microsoft Word, Mac Pages, Photoshop, or Illustrator, you can customize this resume template.
5 Best Resume Design Tips for 2020

The modern resume examples for 2020 above will give you a great start to creating a stand-out resume. Yet, standards and conventions are always changing. To make sure you stay current, check out the latest tips on building modern resume examples in 2020:
1. Don't Use a Headshot
Most of the resume and CV templates you'll find today have placeholders for your headshot. However, this is completely optional. Prospective employers don't usually require you to send a photo along with the resume. In some cases, doing so is against the law! Find out what the conventions are in the job, industry, or location you're applying for.
2. Tailor Each Resume to the Job
Never send a generic resume. That's one sure way to get eliminated from the competition. Instead, take the time to study the job description and the employer. Then, customize your resume to make it a perfect (or near-perfect) fit for the job. Use keywords and phrases that seem to be important to the company and emphasize parts of your track record that are most relevant to the position.
3. Write a Thoughtful Summary
The summary is the first thing, and sometimes the only thing, recruiters read. Take the time to make sure your summary accurately describes the breadth of your experience and expertise. The summary provides a total picture of what you've accomplished in as little as three sentences.
4. Match Your Claims with Proof
As much as possible, back your claims with proof. Evidence can come in the form of measurable results, awards, recognition, and positive feedback from customers. Don't just say you've got SEO expertise. Say you increased a website's organic traffic from 200 to 2,000 per day. Don't say you've got experience organizing fundraising events. Say you exceeded your annual fundraising goal of $1 million.
5. Direct the Eye to the Most Critical Content
Recruiters will be scanning hundreds of resumes, including yours. Make it easy for them to see what's most important. According to experts, we tend to scan documents in an F-pattern. This means the most critical pieces of information go on the top-left part of the page, and the least important towards the bottom. If you're sending a printed resume, you can also use spot colors, borders, or icons to highlight parts of your resume.
Learn More About Making a Great Resume in 2020
Are you still not sure how to create a great resume that'll help you land that dream job? Start by checking out our ultimate guide: How to Create a Great Resume (Ultimate Guide) to help answer a few concerns you may have and get you on the right track. 
For even more tips and tricks to master creating a great resume, check out our tutorial selections below: 
Where to Find the Best Contemporary CV Templates in 2020 (Envato Elements vs GraphicRiver)
Both Envato Elements and GraphicRiver have trendy, popular modern CV templates with high-quality visual designs. They lead the pack in 2019/2020. But, should you use GraphicRiver or Envato Elements? And, what are the key benefits of each?
1.

Key Benefits of Envato Elements

Envato Elements is a premium subscription service that gives you unlimited creative template downloads for a single monthly fee. That's a powerful offer. 

Download as many trendy resume templates you need to use at any time, as well as: web templates, fonts, add-ons, and graphic assets. There are loads of quality contemporary resume examples with on-trend designs available on Envato Elements:
2.

Key Benefits of GraphicRiver (& Envato Market)

GraphicRiver is the leading digital marketplace for purchasing single-use graphics and visual assets. It's part of the Envato Market suite of online marketplaces that cater to many creative digital asset needs.

When you need a modern CV design template, to use right now on your project. Then head over to GraphicRiver to make a purchase and download your files. Here are the best contemporary resume templates that are currently trending on GraphicRiver:
Your Choice (What's Right for You?)
Envato Elements offers a great bang for your buck if you're a:
serial job hunter, always on the lookout for new career opportunities
serial entrepreneur working on various projects
digital marketer with many projects to promote
graphic or web designer with numerous clients to serve
Sign up for Envato Elements now.
Or, if you just need a best CV design template or another file type to download right now, then head over to GraphicRiver (or another Envato Market site) to find what you need.
Go Design an Outstanding Resume Now for 2020

Now that we've looked at 25 of the best contemporary resume examples on the market today, it's time to start building your own. Make your career search all about your record in 2020. Go forth and rock the world.
Choose one of the new resume templates from Envato's incredible content library. Or choose one of the new resume styles from GraphicRiver. 
It's more important than ever before to stand out above the crowd. And if you're not a design professional, you're no longer at a disadvantage, thanks to these professional templates. 
Editorial Note: Our staff updates this post regularly—adding new, exciting modern resume style templates with the best, trending resume designs.