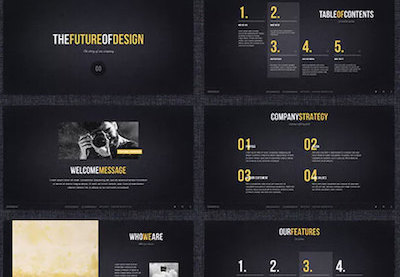 30 Animated Keynote Templates to Make Cool Captivating Presentations in 2019
The success of your presentation is tied to your presentation or slide deck. 
Increase the effectiveness of your presentation by adding cool Keynote animations to your presentation. Animations help your visitors to better remember the information you shared. They also help them engage more with the content.
To make sure your presentation is well-received, you need the right Keynote template. More importantly, you need an animated Keynote template that's got professional animations, slide transitions, and other effects. These will make your presentation more compelling. 
You can find amazing Keynote animation templates for your presentations on Envato Elements or GraphicRiver.
Find Awesome Animated Keynote Templates on Envato Elements (With Unlimited Use)
When you need to create amazing Keynote presentations, the first place you should look is Envato Elements. Or browse to get inspiration from the best Keynote animations ever created.
Envato Elements has thousands of amazing Keynote animations. Download as many templates as you want for a low monthly price.  Use them in as many presentations as you want.
With Envato Elements you can also download thousands of other design assets. Choose from fonts, icons, and other graphic elements. Then, use in your presentations to help you present your information.
5 Amazing Keynote Templates From Envato Elements (With Cool Designs for 2019)
Take a look at some of the awesome Keynote templates that you can find on Envato Elements:
The Business Animate Keynote template is the perfect choice for business-oriented presentations and even webinars. The template comes with more than 1000 custom icons paired with amazing animation in Keynote effects and transitions. These will help you introduce different sections of your presentation. You'll also find premade slide designs that are easy to edit. Plus, there's a link to the fonts that used in the presentation.
The Color X-2 is a colorful and versatile animated Keynote template. Use it for all kinds of presentations. The template comes with 100 unique slides and is fully animated. It's also easy to edit as all shapes, colors, and fonts are completely customizable. And, the template comes with icons, charts, and other presentation elements.
If need a sports-themed presentation, the Fast Running template is a great choice. The template is fully animated and includes more than 170 unique slide designs. It also includes image placeholders. So, you can easily add your own photos. You'll find charts, graphs, icons, and other necessary presentation elements.
Try the Business Character Keynote animation template if you're looking for a business or corporate style template. This awesome, animated Keynote presentation includes four premade color schemes and elegant transitions and animations that bring your presentation to life. You'll also get more than 600 individual slides, custom icons, and seven blur backgrounds.
The Keynote Presentation template is fully animated and designed in a timeless black and white design. This makes it perfect for any type of presentation. It works well to create awesome Keynote presentations for the fashion and beauty industry. But it's versatile enough to be used in corporate presentations as well. On top of awesome animations, this template also includes a grand total of 1000 custom icons and many slides that are easy to edit.
Get Unlimited Access to Digital Assets on Envato Elements (Design Without Limits)
If you design often do yourself a favor and subscribe to Envato Elements. It's a one-stop shop for all your creative needs. For a single low monthly fee you get unlimited access to over 1.3 million (and growing) digital design assets.
Envato Elements powerful subscription includes unlimited access and use of graphics, vectors, photos, videos. You'll also get access to all sorts of presentation templates from PowerPoint to Apple Keynote templates featuring amazing animations.
While Envato Elements is a powerful option, you might be looking for a single best Keynote presentation template for your next pitch. We've got your back, actually GraphicRiver has your back. 
You can buy Apple Keynote templates one at a time (instead of getting unlimited access to thousands of designs). Check out the selection from our GraphicRiver marketplace below.
Find More Awesome Animated Keynote Templates on GraphicRiver (In 2019)
If you're looking to make a one-time purchase of a Keynote template, stop by GraphicRiver. This marketplace has thousands of amazing animated Keynote templates. So, if you don't want or don't need access to other design assets with unlimited use, it's definitely a good choice.
25 Best Animated Keynote Template Downloads on GraphicRiver (For 2019)
Below, you'll find 25 amazing examples of animated Keynote presentation templates. Use one of these in your next presentation, pitch or webinar:
This animations Keynote design is the perfect choice for building a presentation with motion. Choose from three custom color themes. Plus, you can explore the wide variety of included animations. 
Archie combines powerful animations for Keynote with hundreds of sleek, versatile slides. There are maps, portfolios, and device mockups, to name a few. Each one is pre-animated, helping you build stunning slides quickly. 
Cloud animations inspire these Keynote motion graphics. Select slides featuring charts, graphs, and text, then drop in your own content. Plus, the template is built with master slide layouts, enabling rapid bulk edits.
Synchrone is a multipurpose business Keynote presentation template. It features minimalist, yet elegant, and professional slides. The template includes 61 main slides and many various editable infographics, color schemes and more. 
Epic Keynote presentation template offers: 
74 unique creative slides
light and dark versions
drag & drop image placeholders
4000+ vector icons
Excel charts
editable text
vector maps
shapes
images
music
and other elements
With a list like that you won't want to miss this template.
GEO creative geometry Keynote template is a multipurpose geometric template. It can be used for any type of presentation:
business
portfolio
corporate 
branding
advertising
minimal
design
The Verzus template is an awesome animated Keynote template. It boasts an impressive number of 300+ individual slides. It also comes with more than 3000 custom icons. The template also includes elements such as charts, graphs, maps, and various infographics elements. These are helpful for presenting data in an organized and streamlined fashion.
Try the Motagua Keynote template if you're looking for an elegant and fresh design. This template includes 25000+ total slides, which are organized into categories. So, you can easily find the ones you need. 
The Motagua is a versatile Keynote template that can be used for all kinds of amazing Keynote presentations. The template has a light and a dark version and includes 16 premade color schemes. You'll also get tons of charts, maps, infographics, icons, and other presentation elements.
Try the Six Reasons Keynote template if you're going for a more corporate look and feel. This template has 45 premade slides. It also includes various presentation elements on top of beautiful slide transitions and animation in Keynote effects. The template comes in four premade color schemes. But you can easily customize them with your brand's colors.
The Kaspian template is a modern Keynote template that uses trendy colors and object placeholders. So, all you've got to do is drag-and-drop your images and other elements into place. It includes awesome animation effects and slide transitions. These make your presentation more lively. Plus, you'll also get over 100 unique slides and more than 450 icons.
The Ever template has everything you need for a stunning and engaging presentation. When you buy this template, you'll get a grand total of 16000 slides paired with awesome animation effects and unlimited color possibilities. The template was designed in a widescreen aspect ratio.
The Triangle is an awesome Keynote template that features a creative and unique design. The template includes 60 individual slides. Use it to present information about your company or project. It's also easy to customize and the template was designed in widescreen format.
The Marketofy template features over 200 unique slides and 2500 custom icons. Plus, there are a ton of other elements you'll need for your presentation. Each slide is animated as well as each individual object.
The template uses vector elements. So, they're easy to recolor and you can also drag and drop your own images to replace the placeholders.
The Business Keynote template features a professional design. It's got more than 400 unique individual slides that are organized into different sections. So, you can easily find the ones you need. The template includes custom icons and elements such as charts, maps, graphs, tables, and more. This template was designed in widescreen and standard 4:3 format.
If you're a fan of dark color schemes, the Rework Keynote template is a great choice. This template includes tons of custom presentation elements as well as animation effects. You'll find media placeholders. So, you can easily insert your own images and over 50 unique slides.
The Swiss Style Keynote template features a clean and bold design. It includes many slide designs and interesting slide transitions that'll breathe new life into your presentation. The template was designed in HD quality.
The Concept is a stunning dark colored Keynote template. It's perfect for business and corporate presentations. Each slide is subtly animated. Plus, you'll also get tons of presentation elements such as charts, graphs, icons, and more. The slideshow was designed in both widescreen and standard screen formats.
The Eureka template features a modern and minimal design with beautiful animation effects and slide transitions. The template includes several pre-made color schemes. Plus, you can easily customize fonts and colors. On top of that, Eureka comes with 200 unique slides, hundreds of custom icons, and was designed in 16:9 aspect ratio.
The Arcama template is a modern Keynote template. It's perfect for startups, designers, small businesses, and fashion brands. It uses a minimal and clean design. Plus, it comes with hundreds of pre-made slides and cool Keynote animations. The template also includes vector graphics, drag-and-drop images, and fully editable data charts.
The Perfect Keynote template is a trendy template. It's got several premade color schemes and over 200 unique slides. The template includes resizable vector icons and image placeholders that make it easy to add your own photos. Plus, the template has charts, maps, graphs, and other elements needed for a presentation.
The Se7en is a multipurpose Keynote template that can be used in many industries and for all kinds of awesome Keynote presentations. The template was designed in widescreen format. You'll get 100+ unique slides as well as maps, graphs, tables, icons, and other presentation elements. Each slide is subtly animated. Also, you can easily customize the colors, fonts, and more.
The perfect template for ecology and nature related presentations. The Eco Green Nature Keynote Template has a minimalist, yet elegant, and certainly professional design. The template includes 60 main slides and many various editable infographics, color schemes and more. 
Convidance Creative Keynote Template is a very interesting keynote template and very easy to use. It's suitable for all kinds of business purposes, business, construction or developer needs. Master slides and editable vector elements are features of this template. They'll make your presentation more professional and can amaze your potential business investors.
Hundreds of unique slides enable this template to show off countless Keynote animation examples. It's structured as a pitch deck, and has all the slides you'll need to sell investors on your next big idea. 
Last but never least, Omega is a dynamic Keynote animations download for all types of content. In total, over 80 slides are included with the pack. Free fonts are used throughout to deliver a clear, readable feel.
5 Quick Tips for Making Pro Keynote Animations & Slide Transitions
Adding animations to your Keynote presentation isn't difficult. Here are a few Keynote animation and slide transition tips that'll help you make your presentations more engaging.
1. Familiarize Yourself With Animation Effects
All the Keynote templates on this list come with awesome animation effects. To customize them, first you need to familiarize yourself with different animation effects. Knowing this will allow you to tweak the duration and other settings.
2. Learn to Animate Individual Objects
Keynote makes it easy to animate slides and apply transitions. Plus, you can animate individual objects, like timelines, on each slide. Use the Build In section to access these. Animating individual objects can make your presentation more engaging. It can also prevent your audience from losing interest.
3. Move Objects Between Slides
For an extra awesome effect, consider moving objects between slides. For this, you'll need to use the Action tool and apply the Move effect on the object you want to move. The object will be duplicated, and you'll need to move to where you want it to end up.
When you're done, you'll see a line that links both objects and shows you the path on which the object will move. This effect works really well when you need to showcase a change in the process.
4. Customize Your Toolbar
Keynote templates can save you time when you need to put together a slide deck for your presentation. But if you want to save even more time, then take a few minutes to customize the Keynote toolbar. To do this, simply click on View from the menu bar and choose the Customize toolbar. Now all you've got to do is drag the features you find yourself using frequently and remove those that you don't use at all.
5. Choose Your Keynote Animations Carefully

Lastly, make sure to choose your animations carefully. Too many animations at once will overwhelm your audience. And they'll make your presentation appear too busy instead of gently transitioning from one slide to the next. 
Avoid using all the possible cool Keynote animations on a single slide. Space them out throughout the presentation. Use transitions between individual slides that introduce different topics or points. Save object animations for a few key slides within each section.
There are many options in Keynote animation templates, but you don't have to use them all at once.
How to Quickly Make Animated Keynote Presentations (With Templates)
There are two ways to build animations for Keynote. The first option is to make them from scratch by using a default design. 
A much better way is to choose an animated Keynote template from Envato Elements.  With these templates, animations are built-in, helping you quickly build Keynote slide decks in seconds. Let's learn how.
For our purposes, let's use the Color-X 2 Keynote Template that we featured above. Once downloaded, it's a breeze to create a new animated Keynote presentation in a few quick steps.
1. Add Custom Content
Let's start on slide 3 in the deck. It's a series of three circular charts. This is really a great way to visualize data like progress reports, market share insights, and more. To make them work for you, all it takes is swapping out the text for words of your own.
Next, you can edit the charts themselves to fit with your own data. To do that, click on one, then choose Edit Chart Data. A Numbers window will appear, right inside Keynote. 
There, you can easily customize the charts to fit your needs. No matter the type of slide, you'll find that it's quick and easy to create slides in Keynote, thanks to templates like this from Elements.
2. Edit Slide Animations
Now that you've added content, it's time to animate it. Thanks again to Elements, you don't have to do this from scratch. In fact, every slide in this template comes pre-animated. But that doesn't mean that you're giving up creative control. 
Click on the Animate button in the upper right corner of your Keynote window. That will launch the Animate sidebar. It's truly the nerve center of animations in Keynote, and from here you can change the various dimensions of each animation. For example, this slide features a Twirl effect. 
Under Duration & Direction, you're able to rapidly change the timing and movement of the animation. To be sure your changes work as planned, try out the Preview tab in the sidebar. It provides a live look at the animation you're editing.
3. Change Animation Order
Keynote also offers the ability to change the flow of animations onto the slide. These tools live in the lower half of the Animate sidebar. 
Options like Delivery address how animations appear. And for the ultimate control, click Build Order at the bottom. There, you can click and drag each animation on a slide and drop it into a new position. 
It's a smooth and efficient way to re-imagine slides by altering their animated content. As you can see, it's fast, simple, and easy to build animated Keynote presentations with a template from Envato Elements!
Find the Best Animated Keynote Template Designs in 2019 (Envato Elements vs GraphicRiver)
Envato Elements and GraphicRiver are the two best resources for creative content today. These include animated Keynote templates like those we just featured. 
You can easily see the quality of the designs—after all, they're built by professionals. Are you wondering which site to choose? Let's explore the key features of each. 
1. Top Advantages of Envato Elements
Elements is the ideal choice if you want to download multiple templates. In fact, for a low monthly rate, you unlock unlimited downloads. That means you can try as many designs as you want before finding one that's perfect for you. 
Elements also includes a wide variety of other content, including stock photos, graphics, audio, and more. Use those to build presentations by enriching them with content! There are countless amazing animated Keynote templates available on Envato Elements.
2. Top Advantages of GraphicRiver
GraphicRiver is perfect if you need a single template for your next project. You pay by download—no monthly fee required. And you receive the same top-notch professional designs that truly make your slides shine. 
If you need an animated Keynote template now, check out some of the offerings available over on GraphicRiver:
3. Which Site is Right for You?

Suppose you're a creative designer or have to make presentations often. The unlimited-download model from Envato Elements is right for you. With your membership, you'll have the freedom to try and use as many templates (and other digital assets) as you want. Join Envato Elements today!
But if you just need a template for a project, GraphicRiver is hard to beat. You only pay for what you use, with no membership required. Check out the incredible selection of animated Keynote templates today.
Learn More Animations in Keynote
If you're getting started and feel uncomfortable with Apple Keynote software, we've got a quick video tutorials series explaining how to use Keynote in 60 seconds.
If you're looking to dive deeper, learn more, and master animations in Keynote, check out the ultimate Apple Keynote tutorial guide. Below are some example tutorials to give you a starting point.
Create Amazing Keynote Presentations With An Animated Keynote Template
An animated Keynote presentation is sure to engage your audience and make your presentation more interesting. Find the perfect animated Keynote template on Envato Elements. Or, stop by GraphicRiver and peruse our collection of amazing Keynote presentation designs.
Editorial Note: Our staff updates this post regularly—adding new, amazing animation templates for Keynote with the best, high-quality designs.