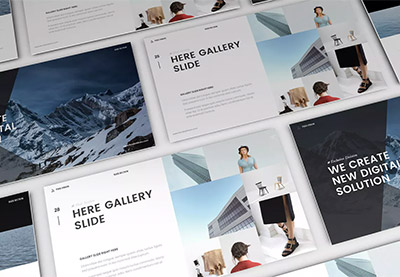 35+ Awesome PowerPoint Templates (With Cool PPT Presentation Designs)
If you've got a presentation coming up fast, you need to get an awesome and unique PowerPoint presentation designed quickly.
Begin with a top PPT template design (like in the interesting slide designs shown below). There's no quicker way to get an awesome presentation design made. 
The right (ready-made) PowerPoint presentation design will save you time. It'll also give you a wide selection of amazing slide ideas. 
Your presentation needs slides that highlight your points, elements that visually engage with your audience, and a design that comes across with the right style. You need a style that's: on-trend, fits your brand, and is dripping with creative energy.

In this post, we feature the best PowerPoint presentation PPT templates. These templates will help you make awesome PowerPoint presentations fast. There are over 25 featured here from Envato Elements and our marketplace GraphicRiver. 
Dive in and find the design that fits your presentation ideas best!
Amazing PowerPoint Templates on Envato Elements (With Unlimited Use)

You can find hundreds of awesome and stylish PowerPoint templates on Envato Elements. It's a great offer: download as many as you want for a single monthly fee. 
Each of the many unique PowerPoint templates from Envato Elements has hundreds of awesome presentation options. They're packed with creative slide layouts, nice backgrounds for PowerPoint, and tons of professional graphics.
Awesome PowerPoint Templates Inspiration (New From Envato Elements – For 2019)
Here are a few interesting PowerPoint templates (with the best cool PowerPoint themes for presenting your inspiring ideas). These are trending on Envato Elements in 2019: 
This modern PowerPoint template has the stylish graphics, cool slide designs, and slick animations you want for professional results. With a ton of unique features, it even packs in assets like device mockups and quick-to-use image placeholders. Use it to make an interesting PowerPoint presentation in a snap!
This trending (stylish) PPT template is a powerful tool made to dazzle audiences. It's got cool presentation backgrounds and unique design elements. Plus, it's great for a variety of presentation needs, from creative agency to corporate presentations, and more. It's made to customize quickly and comes with resizable graphics, easy to work with slides, and is set up at full HD.
This is a good PowerPoint template with a solid set of modern PPT slide designs. It features many color schemes (light, dark, and color slides sets). It also has an assortment of the best cool PowerPoint themes and layout options. It's set up for easy customization with professional graphics, so you can drag and drop to make changes fast!
Here's a nice and unique PowerPoint template with a clean, minimalist style. It's perfect for making creative or corporate presentations. It blends the right amount of trending design style with an elegant aesthetic. 
It comes with an assortment of exciting layouts, cool presentation backgrounds, stylish slide designs. Plus, it's got the professional features you'd expect, like full animation, master slide setup, and handmade infographics. Grab it today to present your unique presentation ideas in PowerPoint professionally.
This fun PowerPoint template has cool slide designs with great PPT layouts and pro graphics. It's ready to use now. With 20+ interesting PowerPoint color schemes, handmade infographics, a clean use of space, and bold text, this stylish presentation design is a great choice. Create amazing PowerPoint presentations quickly and easily.
Envato Elements (Design Without Limits)
Envato Elements has a single compelling (all inclusive) offer:
Sign up for Envato Elements and you get access to thousands of unlimited use graphics and templates (with unlimited use). Get great web themes, cool presentation templates, and more—all for one low price. 
That's right! Download as many professional templates and graphics as you want. Then customize them to fit any of your project needs.
Envato Elements is a powerful option. But if you prefer to buy the best unique PowerPoint templates one at a time (instead of getting unlimited access to hundreds of creative designs), check out the selection from our GraphicRiver marketplace below.
Exciting PowerPoint PPT Templates on GraphicRiver in 2019 (Buy It One At a Time)
On the GraphicRiver marketplace we've got thousands of really cool PowerPoint templates. Stylish new designs are added weekly. They're created for a variety of professional presentations needs—especially for those that need high-quality, visually striking designs. 
Here are our trending (best-selling) cool PPT presentation templates for 2019:

These best attractive PPT templates come with lots of unique slides, from great infographic slides, to shaped photos with creative text layouts, cool full-width break slides with transparency effects, and more.  
Whether you need a gorgeous minimal set of presentation slides, or a colorful, highly energetic design, we've got an amazing set of stunning PPT designs in this creative showcase.
30+ Awesome PowerPoint Templates From GraphicRiver (With Ultra-Cool Designs)
Browse through this handpicked, curated selection of cool PowerPoint templates with awesome designs. There are over 30 high-quality presentation sets featured here from GraphicRiver. Find what you need to make a stylish, professional presentation quickly in 2019 and 2020.
Awesome PPT designs like MPoint are far superior to free templates found online. That's because they're designed by professionals with your success in mind. By choosing a template like this, you can easily build a high-quality slide deck in only minutes. Here, you'll find over 70 sleek slides to jumpstart your next project.
The best PowerPoint presentation templates have a few key things in common. They're stylishly designed, they're easy to use, and they make any type of content look great. Such is the case with the Space PowerPoint template, an elegant and refined offering with 150 total slides. 
It might be tempting to search out amazing PowerPoint templates for free. But remember, you get what you pay for. When you're delivering a project report, it's imperative to elevate your design to craft a winning deck. This keeps your audience engaged and impressed with your skills. This one is a prime example, proving itself one of the best PowerPoint layouts for project updates. 
A pitch deck PPT format is built to share your next big idea with the world. That means you'll need bold design and plenty of data – two things that prominently feature in this powerful PowerPoint template. Choose from a vast array of infographic and narrative slides. Then, drop in your specific content to build the case for your dream. 
Great PowerPoint templates help accomplish the ultimate goal of any slideshow: telling a story. That's especially important in the crowded, busy age of social networks. Show off your online presence, the offerings of your team, and more with this refined modern layout for PPT.
This good PPT template has many stand-out slides with a minimal design aesthetic. It's one of the best PowerPoint presentation templates. There are over 200 unique slides in this awesome set, which include: 
dynamic image with text layouts
handcrafted infographics
cool PowerPoint backgrounds
unique PPT header designs
edible charts
custom graphics
and more
These PowerPoint slides are set up to work with easily. They include image placeholders and professional master slide setup. So, you can fully customize your slide designs.  Illustrate your concepts and make amazing PowerPoint presentations design quickly!
Grab this awesome PPT presentation theme. It's got a cool design with transparent overlay features including stylish color effects that add an elegant modern feel. 
It's quick to customize slides are made with smart art, pixel-perfect master slides, lots of infographic and nice graphics element options, and more. Impress your audience. Create a beautiful PowerPoint presentation with this set of the best attractive PPT templates.
Eureka is a cool PowerPoint template with a modern design, creative slides, and a minimal sophistication. It's got an awesome assortment of dazzling styles. You'll find a compelling use of shape, graphic, and image combinations—within over 200 stylish slides. They've got cool presentation backgrounds, unique PowerPoint header designs, and more.
It includes elegant features like cropped brush marks, maps, device mockups, and more. It's rated a full five stars, with rave customer reviews like: 
"The large number of graphics and designs allows unlimited ways to customize your presentation."
This awesome presentation template is loaded with creative slides. It includes hundreds of design options. It's made for building professional PowerPoint decks, so you can quickly make a killer pitch to investors.
It also comes with title, team, timelines, revenue models, infographics, and more slides. There are also cool PowerPoint background styles to showcase your business ideas with. It's also a versatile theme, which you can use as a base for many types of presentations.
Dynamic shapes, colorful elements, and innovative flair mix with a clean modern design. If you've got a creative prevention to give that needs a cool, highly stylish presentation design, then Mark 03 is an awesome choice. 
This theme comes with over 400 unique slides with cool PowerPoint designs such as:
PowerPoint header designs and backgrounds
tables and charts
infographic slides
full image slides
and more 
It's got great PPT design ideas. It's made to be easy to edit, drag and drop picture ready, and editable graphics included.
Making a striking presentation design is a lot easier when you start with the best awesome and attractive PPT templates. Prism is a versatile theme packed with hundreds of unique slide designs. It's a great solution to the need for fun PowerPoint designs with creative options. 
It's got a cool, minimal style and high-quality design assets like vector icons, data ready infographics, and device mockups. If you start your presentation design with the Prism template builder, you can make a great presentation deck fast!
If you've got a room full of potential investors to motivate, this modern pitch deck is a great choice to present your innovative idea with. It's a modern, creative PowerPoint template, with an attractive set of slide layout designs.
These cool PPT templates come with startup pitch templates built right in. It includes slides to give your elevator pitch, details about your business, timeline to go to market, nice infographics, and more. It'll help you visualize all your points.
Fox is a modern PPT template with a minimal design style and awesome creative features. It includes
 over 400 unique slide layouts
a ton of nice icons
cool PowerPoint backgrounds
handcrafted infographics
custom animations
and more
Customize your presentation quickly. Use this professional, stylish theme to make a cool presentation design fast!
This modern PPT theme has many cool features. You'll find creative shapes, transparency effects, and custom graphics. Each adds elegance to these professional, minimal style slides. 
Here's an awesome mix of infographics, text with nice photos layouts, cool backgrounds, stylish PowerPoint header designs. Plus there are plenty of presentation options with cool PowerPoint designs. Moon is a great template set to work with.
This multipurpose PPT theme is made for giving awesome business presentations. It comes with over 300 unique slides based on what most businesses need. It's got a five-star rating and rave reviews, like: 
"Amazing – everything we needed in one deck – and fantastic, responsive support."
Ready to edit quickly, this best PowerPoint presentation PPT template comes with slide designs for showcasing your team, your mission, your business timeline, as well as your products and services. It's packed with illustrations and unique graphics, with calendars, device mockups, color-coded maps, useful diagrams and so much more!
Your best ideas need to be heard. To make an impact when giving a presentation, you need creative visuals that back up your points and communicate clearly. 
Pitch is a good PPT template with a cool set of modern slide designs that are made to persuade. Whether you need to pitch investors, showcase your company at a conference, or tell an innovative story, this presentation set has you covered with all the professional assets you'd need!
Creating a great presentation can take quite some time. Start with a PowerPoint template that's got a great set of slides and design features that make it easy. Kaspian is a PPT set with a cool, minimal style that pairs dynamic shapes, and cropped photos. You get skewed elements on angles and classically clean text layouts. This high-energy deck is ready to use to showcase your powerful ideas!
Do you need a fun PowerPoint design? This material design PowerPoint theme has a flat trendy style. It's great for creating cool presentations that showcase modern businesses, software or online service companies, or innovative ideas.
There are over 200 easy to edit slide designs, cool PowerPoint backgrounds, and header styles. Plus, there's an assortment of graphics and unique color combinations. It's overloaded with creative slides for telling a great story, highlighting your business strategy, and showcasing your success!
This five-star rated PowerPoint template has a very cool design with a unique minimal aesthetic. It's packed with over 150 modern slide designs, cool PowerPoint backgrounds, unique header designs, and custom layouts. Yet it doesn't feel overdone. 
Quickly create an authentic presentation with awesome PowerPoint layouts. Make a presentation that convinces and backs up your powerful points!
If you need a clean, fun PowerPoint template with a simple cool style, then this Modern presentation design is made for you. It's one of the best attractive PPT templates. 
Visualize your business or creative ideas quickly. Showcase your points with bold typography, alongside powerful photography cropped into energetic shapes, on top of cool presentation backgrounds, or inside easy to understand infographic layouts.
If you need awesome and stylish PowerPoint templates, with a minimal cool design, Balance has just what you need. It's a gorgeous deck with many creative slide designs. It's got great PPT design ideas. It features compelling uses of nice PowerPoint header designs, photos, text, skewed shapes. There are also a number of icons and infographic designs. It's got everything you'd want to make a great presentation quickly!
If you're looking for fun PowerPoint designs, with professional features, we've got you covered. This cool PowerPoint template has:
many colorful slides with full-width photos
plenty of creative vector graphic illustrations
professional infographic slides
impressive animation effects that you can make quick use of 
Showcase your important points. Then back them up with killer data visuals, and awesome PowerPoint layouts that come alive with this modern presentation set!
Whether you've got an idea that's clamoring to be heard or an audience that needs to be won over, you need a template that packs an awesome punch. Socran is a stylish, minimal presentation theme (cool PPT templates) with over 100 unique slide, powerful data charts, and beautiful layouts. Quickly make a presentation that communicates and persuades!
If you've got an audience that needs to feel what you've got to say, then you need cool PPT templates to help you visualize your ideas. Presentations need to tell stories and do so in a concise and compelling way. 
Use powerful graphics slides to complement your points. This template packs in a lot of modern design elements, from dramatic image layouts to bold type, that you can use to make a great deck with fast!
Liberty is an energetic PPT presentation design with creative layouts that uses cool graphic elements, icons, and infographics to call attention to important headings and areas of text.
Customize all these elements with your own info, photos, and more. It's made simply, so you can easily change it to your presentation needs. Adjust colors, insert you messaging, and drag in your own elements quickly.
This minimal PowerPoint template has a clean style mixed with fresh design elements. It comes with:
diagram collections
cool textual and image data slides
infographics, charts, and graphs
plenty of icons 
Use it to create business presentations with. It's got a full range of flexible presentation assets with cool PowerPoint designs and easy to work with features.
This amazing PowerPoint template features over 350 unique slide design and cool transparency effects. It's made for creative business presentations. Put its modern and timeless style to use to bring your ideas forward with the right blend of photo, text, and design elements. There's a ton of charts, icons, mockups, creative layouts, and more. All are ready to make your presentation stand out and be remembered!
Choosing the best PowerPoint templates from GraphicRiver is a sure way to streamline the process of creating your next slide deck. A template like Flux Slides offers a tremendous value, with over 200 unique slides included. That means you're sure to find one to fit every need. Plus, you gain access to 600+ custom icons to add unforgettable themes to every slide.
It always pays to choose a pack that delivers high value, especially when you're purchasing cool PowerPoint templates. Ever does just that, with thousands of slides spread across dozens of great new designs. They're diverse enough to suit any purpose. But they share one thing in common: impeccable, clean styling throughout. 
Good PowerPoint templates are everywhere. But for great ones, you should leave design up to the experts. Creative designers hand-craft stunning premium themes like this. By choosing one, you can build winning successful slides time after time. Be includes 500 slides and editable layouts across the full slideshow. 
In need of the best PowerPoint themes, but unsure of your chosen style? Gain the best of both worlds with Stampede, a PowerPoint mega-pack loaded with limitless possibilities. Begin with 100 color themes and over 3,000 vector icons. Then get to work building custom slides, with 250,000+ in total. The options are endless, and the choices are all yours. 
PowerPoint layouts offer you – the slide builder – plenty of easy options for sharing your own content. This can include text, images, videos, charts, and more. Find all those, and countless other slide themes, right here in the Liquid template. It stands out for its varied options and bright, colorful aesthetic. 
5 PPT Design Tips for More Awesome + Interesting Presentations (In 2019)
A few quick tips can make all of the difference when you're designing your next awesome PowerPoint presentation. In this section, I'll share five tips that'll change the way you approach slide designs. I'll also include a link to a tip or tutorial with each tip that shows you how to use the technique. 
1. Start With a PPT Template (And Customize It)
Above all, you should save yourself the time (and work) of creating slide designs from scratch. Don't spend hours drawing elements and objects on a blank slide. Instead, use a pre-built slide template with many of the starter elements you need for perfect slide designs. Using a template gives you PowerPoint design ideas that spark inspiration!
Some of the best PowerPoint templates can save you many hours of design. It helps to know how to use the slide master view so that you can customize them. Check out the screencast below to do just that:
2. Use the Built-in PPT Layout Guides
As you move objects around on a slide, you'll see guides and lines that help ensure everything is aligned. Making sure you follow those layout guides will give your PPT slides a clean visual look.
Use the alignment screencast below to learn more about how to build awesome PowerPoint presentations:
3. Use the Built-in PowerPoint Layouts

The best PPT templates have a variety of layouts that you can choose from and use. Think of a layout as the blueprint for a slide with the built-in elements and objects that are ready for you to drop your own content into. Each of these slide layouts is PPT design ideas that can help you arrange your content.
Learn to modify those layouts as needed in the screencast below:
4. Add Backing Audio to Your PPT Slides

Beyond the visual appeal of a slide, you can add audio to your PPT designs. This could be a sound effect or background music that sets the tone for your presentation.
One PowerPoint design idea is to use audio to create a mood or atmosphere in your presentation. If you're sending the presentation to others, audio will create a nice background for PowerPoint viewers.
5. Add Animations to PowerPoint Chart Elements

Animation doesn't have to overwhelm a slide. You certainly don't want too many elements flying off and on your PPT template, but a few key animations will bring your data to life.
One awesome and best PowerPoint presentation PPT trick is to use animations in a chart so that you add key elements as the slide builds out. Try out the tip below to learn to do just that.
5 Benefits of Using the Best PowerPoint Presentation Templates With Pro Designs (In 2019)
Are you still on the fence about using a PPT template to jump ahead in the presentation design process? You might be wondering about the value of outsourcing the design work. 
Here are five reasons that you should use a great PPT template for your next presentation in 2019:
You save time. When you use one of the best PowerPoint presentation templates, you start with much of the work and content already built. Drop your own details into the placeholders 
The finished slide deck is the best possible presentation. Design is best left to the professionals. The best PowerPoint presentation PPT templates end up with a better finished product than anything most users can design.
Ideas are built into the slides. If you don't know what to include in your presentation, start with a template. A good PPT template is chock full of ideas for the content that every presentation should include.
You don't give up customization. Just because you start with a good PPT template doesn't mean that you can't totally customize it. Even the best templates can still be modified and adjusted to include your personalized details.
The slides stand out. Most presentations will use the Microsoft built-in presentation templates. These templates are sure to stand out because it's unlikely that your peers will use custom PPT designs.
Benefits of Envato Elements (The Power of Unlimited Use)

Envato Elements is a unique service. It's a flat-rate subscription that includes thousands of great PPT templates for a single flat-rate price.
Sign up for Envato Elements. You'll get access to thousands of unlimited use graphics and templates, from web themes to presentation templates, and more—all for one low price. 
More Awesome PowerPoint Templates With Interesting Designs
Need great PPT design ideas that are ready to use? We've got a ton of really cool PowerPoint templates with unique designs and trending styles highlighted in our Ultimate PowerPoint Template Guide. 
Or, browse through more awesome PPT theme design styles featured in these articles:
Learn how to create an awesome and unique PowerPoint presentation by customizing professional PPT layouts. Use the easy-to-follow workflow below.
How to Make Awesome PPT Slide Designs Quickly
Using good PowerPoint templates helps you make amazing slide designs quickly. To illustrate, we'll work through a few quick steps to completely customize a PowerPoint layout. 
Let's use the Aura – Awesome and Cool PowerPoint Themes that we featured above. It's one of the great PowerPoint templates that includes a ton of layouts. 
Shown here is slide #36 from the PPT Design. As you can see, it's set up as a Contact Us slide. At first glance, you might think this slide has a narrow use that might not work for you.
But premium PowerPoint layouts make customizing every slide a breeze. Start with a PowerPoint layout and customize it to find the balance between fast and professional. Let's walk through three quick steps to completely reimagine this one.
Step 1. Remove Unnecessary Content
Remember that just because a content placeholder is there, doesn't mean you've got to use it. It's easy to remove elements from PowerPoint layouts. In this case, we'll delete the three blocks for addresses, phone numbers, and emails. 
To do this, hold down Control on Windows, or Command on Mac, and click to multi-select the text boxes and icons. Then press Delete.
The unneeded placeholders will disappear, freeing up space on the slide. 
Step 2. Add Custom Text
Next up comes adding custom text. Edit existing text boxes, filling in your own words. We'll begin here with changing the "Contact Us" line, then expand the paragraph placeholder below.
Remember, you can always change out font sizes, designs, and colors in the Font menu on PowerPoint's ribbon. In seconds, we've added our own text.
Step 3. Insert an Image
Last up comes adding an image. PPT designs like this have a built-in image placeholder already included. To add an image, we'll click on the blue icon in the center of the placeholder.
Then, we can browse to an image stored on our computer and click to insert it. Instantly, PowerPoint will drop it onto the slide–scaled perfectly!
As you can see, making awesome PPT designs quickly is easy when you use a pre-built professional theme from Envato Elements or GraphicRiver!
To learn more about using great PowerPoint templates and customizing PowerPoint layouts, jump to the tutorial below:
Download Our (Free) eBook on Making Great Presentations

Grab this new eBook: The Complete Guide to Making Great Presentations. It's available to download for Free with a subscription to the Tuts+ Business Newsletter.  
It'll help walk you through the complete presentation process. Learn how to write a powerful presentation, design it like a pro, and make it engaging.
More Helpful Presentation Tutorials & Creative Tips (At Envato Tuts+)
Learn about how to work with Microsoft PowerPoint quickly. And learn how to design great presentations, that are more persuasive and packed with cool, creative ideas: 
Or, start with beginner PowerPoint tutorials to make simple effective presentations: 









Common PowerPoint Questions Answered (FAQ)
The best PowerPoint templates help you solve the challenges of building a presentation. But you may have questions about whether PowerPoint is the right choice for your next presentation.
Let's look at five common questions presenters ask when they start building a PowerPoint presentation.
1. Is PowerPoint Better Than Apple Keynote?
The two most popular presentation apps are Microsoft PowerPoint and Apple Keynote.
It's hard to compare the two. Many times, rookies favor Apple Keynote for its ease-of-use and easier learning curve. PowerPoint is more widely used in traditional workplaces. In reality, there's no single best choice. Check out the article below for some key considerations.
2. Can You Use PowerPoint for Any Purpose?
PowerPoint is often pigeonholed as only for traditional presentations. But with the help of the best PowerPoint presentation templates, you've got flexible options for what to build.
Increasingly, I find myself using PowerPoint as a "lean" design tool for diagramming ideas and concepts. It's so easy to drag-and-drop and rapidly iterate while designing ideas. 
Use the best cool PowerPoint templates like the ones in the article below to create a poster, for example:
3. Is PowerPoint Free?

The answer is that certain versions of PowerPoint are free, such as PowerPoint online. And many times, that online version is more than enough for most users. It supports the top PowerPoint templates you saw in this tutorial.
Check out the tutorial below to see what's available (and what's missing) in PowerPoint Online:
4. Does PowerPoint Connect to Other Apps?
For many corporate professionals their life looks like this: do analysis and research in some apps. Then show those findings in presentations. It helps if you've got tips that reduce the time to prepare visuals.
That's why the connection between Excel and PowerPoint is so powerful. In my own work, I've got PowerPoint presentations hooked to financial models built in Excel. As each month's results come in, the charts automatically update. They're ready-to-share with my business partners.
Working effectively between Microsoft PowerPoint and Microsoft Excel is an incredible skill. Create attractive presentations with the help of these tips:
5. Can You Import Files In PowerPoint?
Don't worry. If you've got a PDF that you need to edit, you don't have to re-create it from scratch.
Use the guide below to take flat PDF documents and convert them into editable presentations in PowerPoint.
Make Your Next Presentation (In 2019) Using a Cool PowerPoint Template Design

If you've got a presentation to give, a great PowerPoint design helps visually ground your points. It's a highly creative asset that demands an awesome design.
To get your presentation ideas across to your audience, your PPT slides need to stand out with the perfect blend of creativity and clarity. For regular access to awesome PPT layouts, great web themes, and fresh graphics, browse through Envato Elements. You can take advantage of its unlimited downloads for one low price.
Or, grab one of our amazing PowerPoint templates from GraphicRiver. We've got loads of cool, trending PPT presentation designs topping our weekly best-sellers' list.
With a fresh presentation design, you'll start with beautiful slides, and work with easy to customize features. Quickly create a memorable presentation that impacts your audience and hits all your goals!
Editorial Note: Our staff updates this post regularly—adding new, interesting PowerPoint templates with the best, trending PPT presentation designs. That way, you can find the design you need to make awesome and unique PowerPoint presentations.