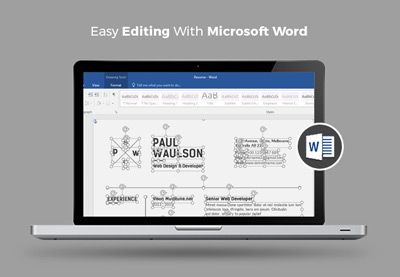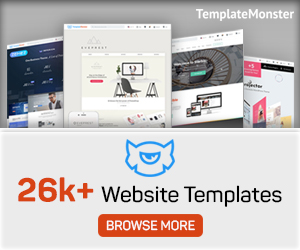 When you apply for a job, your resume's role is to get you an interview. Your resume or CV needs to grab the attention of the hiring manager. It needs to convince them that you're qualified and should get the interview.
Your resume gets your foot in the door. So, if you want that job, then craft and polish your resume until it portrays you as a great fit for the position. 
Your resume or CV can mean the difference between landing that coveted position or getting ignored all together. 
Here are the characteristics of a polished resume or CV design:
it stands out
is well branded
feels clean and spacious
focuses the reader's eye on the important details
is easy to read and credible
Create a visually stunning and compelling resume with a professionally designed resume template (Word format file).  With the resume templates shown here, you don't need design or coding skills.
The Best Microsoft Word Resume Templates on Envato Elements (With Unlimited Downloads)

Discover hundreds of MS Word 2019 resume templates on Envato Elements and download as many as you want for one low price.
Each of these awesome Word 2019 resume templates from Envato Elements has tons of professional and creative design options. Grab one of these simple resume and CV formats in Word to quickly create a memorable first impression. They come with ready-to-use designs to showcase your:
personal information and brand

work experiences and portfolio, 
educational background
blogs and published work

services
testimonials

social media accounts
contact details
Microsoft Word resume (CV) templates are easy to work with. Just add your personal information, creative graphics, and preferred colors to these already visually impactful Word 2019 resume templates. Many employers accept resumes electronically in Word. If not, convert it to PDF before submitting it.
You also get unlimited downloads of fonts, stock photos, and icons from Envato Elements to make the professional resume doc truly your own. 
Quickly prepare your MS Word resume with your custom info. Print your new curriculum vitae (CV) or save it as a PDF. You're all set to impress your future employer or client.
It's that easy!  
Sign up for Envato Elements, and you get access to thousands of creative graphics and templates (with unlimited use)—all for one low price. Choose from MS Word 2019 resume templates, royalty-free audio tracks, and more.
Best Resume Templates, Word (New From Envato Elements – For 2019)

Here are a handful of 2019 resume templates for Word with creative and professional designs to represent your personal brand:
This MS Word resume template is simple, clean, and easily editable. Though you can readily edit it on MS Word, an Adobe InDesign resume template is also included. This two-column resume template layout is suitable for people from any profession. It gives the impression that the applicant is not only professional, but also has a creative streak. 
This professionally designed (and easy-to-edit) multi-column resume template package is for the job seeker who wants to leave an unforgettable impression in 2019. Fast track your job search with the best professional resume templates for Word. Get work you want as a professional who's as creative and versatile as you are! This template is fully customizable in Adobe InDesign and in Microsoft Word.
This is a professional modern retro style MS Word resume template that'll make you stand out from the crowd in 2019. A simple and professional resume allows you to create your own personal brand logo in just a few minutes. 
This design set includes four easy-to-edit page designs: cover letter, one-page summary, and a two-page resume template for Word, matching business cards, and icons. That's everything you need to make a great first impression.
This best MS Word resume template helps you create a simple and professional resume that'll get you one step closer to your dream job. Swiftly include all your details into this template on MS Word and then quickly print it. It's that easy to use and customize! 
This best professional resume templates for Word also comes with a portfolio booklet that helps you compile all your creative work easily, which is ideal for applicants for creative roles.
This high-quality, creative resume template set will help you land your dream job or simply create a better-looking resume fast. This simple and professional resume doc is a unique approach to add style to your resume. 
This multi-column resume template can be easily customized to your liking and includes all necessary files for a quick set-up. Delete or add anything you desire in the document, change colors, or keep the original design.
Envato Elements (Design Without Limits)
Envato Elements is a great choice when you need to buy design assets on a regular basis. For one low monthly price, you can download unlimited templates and graphic assets, including MS Word resume templates. That's right! Download as many download template CVs and resumes, professional graphics, and resume templates as you want. Then, customize them to fit any of your project needs.
Envato Elements is a powerful option. But, to buy new professional resume templates for Word one at a time (instead of getting unlimited access to hundreds of creative designs), check out the selection from our Envato Market below.
The Best Resume Templates 2019 on Envato Market (Buy It One At A Time)
We also have you covered if you need to buy a simple resume template format in Word one at a time. You'll find them in our Resume Templates Word category on GraphicRiver, which is part of the Envato Market. 
At GraphicRiver, you pick, choose, pay only for the Word resume template you want—no recurring fees! And each one's got a budget-friendly price.
Here are a few creative examples from our best-selling simple resume format in Word templates:
30 Best Resume Templates 2019 (Design From Envato Market – For 2019)    

Below are 30 resume templates in Microsoft Word DOC format with great designs from Envato Market. 
Note: If you need one in another format, such as Photoshop (PSD) or InDesign (INDD), some of these resume templates would work as well.
Grab one of these best resume templates in Word format. Customize it to your personal brand and work history. You'll get your application in front of potential employers quickly. Make sure you're putting your best foot forward when applying to a new job.
Professional Template for Word has a clean and professional design. This resume template comes with a cover letter and resume design. It also comes with an expertise section to show your future employer what you're good at. This resume template also comes with an award section to show the hiring manager that you've been recognized for your hard work.
Modern CV Template for Word can be used in Microsoft Word, Adobe Photoshop and Adobe Illustrator. You can easily add images to your resume by dragging and dropping the image of your choice into the image placeholder. This template comes with an icon pack to make your resume standout. Modern CV Template for Word has a modern landscape design. It's also got a skills section to show the hiring manager your skills. Plus, there's a references section.
Resume/CV Bundle 3 in 1 can be used in Microsoft Word, Adobe Photoshop, or Adobe Illustrator. This template is fully editable. The Resume/CV Bundle 3 in 1 includes three resumes that you can choose between. All the resumes come with a matching cover letter. Each resume has a nice professional design organized in sections that makes the resumes look neat and organized.
This Microsoft Word resume template is fast becoming popular in the Envato Marketplace. Its clean yet professional design works well for most types of jobs and industries, including the more traditional ones.
The package includes some of the best professional templates for a two-page resume or CV. This is perfect if you've got a longer job history or want to include more details. Also included is a cover letter template for a consistent, coherent look.
These templates come in A4 size and in both Illustrator and Microsoft Word formats for easy editing and customization. It uses only the free font, Aller.
This resume/CV template is available in both A4 and letter sizes. And aside from Microsoft Word, the files also come in EPS and PSD formats. You can edit and customize the text, fonts, and colors.
The coordinated cover letter template is also included. With its straightforward design, this template is uncluttered and pleasing to the eye. The included icon set adds visual punch without making the documents overly busy. 
This highly attractive professional resume template Word file is a true study in effective minimalism. This simple and professional resume doc features a clean and tidy design that's supported by a lot of white space and easy to read black fonts. 
It comes with Microsoft Word files in DOCX format (including InDesign INDD and Photoshop PSD graphics files as well). They're ready to open in Microsoft Office Word (or another application) and customize to your liking. 
This professional template is available in both Letter and A4 sizes and is set up on a baseline/document grid for the most usability. Grab this professional resume design to help make your next application stand out!
Stand out from other job candidates, with this two-column resume template for Microsoft Word. The single band of color on the header puts the spotlight on your name and contact information.
This template comes in A4 and US letter sizes and is compatible with Photoshop and Word. It also comes as a PDF, which you can customize with a PDF editor. The accompanying Readme file contains links to the free fonts and icon fonts used in the design.
This layered modern resume is available in a myriad of files, including Word, PSD, and Illustrator. It's cleanly structured files and well-organized presentation make it a true joy to use. Any professional can edit and customize it to their own work history.
The template features a clean design that uses contrast for maximum legibility. This polished resume template Microsoft Word document will help professionals stand out from the rest of the pack when they submit their resumes. Very versatile, it's easy to use for beginners and still deep enough for pros to customize to their liking.
If clean lines and neat design are what you're looking for, then you can't go wrong with this professional resume template for Word. Use it to impress potential employers, clients, or anyone else with whom you want to work on a project in your professional life. 
Boasting both black and color versions, the 54-file template chunks information into digestible paragraphs and snippets. Your most important details will jump out at potential employers or clients. It comes with Word, Adobe Photoshop, Adobe Illustrator and Adobe InDesign files.
For a professional look that's sure to get you the right kind of attention from a potential employer, look no farther than this simple resume template Microsoft Word file. With its minimal use of color and effective use of contrast, this is a winning resume design. 
Its got a clean layout and well-designed structure ensure that readers can efficiently skim to pick out the most important information from your resume. It also comes with free fonts and a set of icons to work with.
This is a professional MS resume template Word design, which includes multiple colors to choose from. This design has a clean look and includes professional assets to make use of.  You can customize it quickly to fit the employment opportunity you're applying for.
It comes with well-organized files and a structured design that can highlight your experience properly. At the top, it features a placeholder for your photo and text for your summary statement. This highly effective resume template is also print-ready for immediate use.
This Word resume template is modern, professional, and extremely clean. It's perfect for the occasion when you want to make a great impression on a prospective employer or client. Don't let your chances to land that lucrative job or contract go to waste. 
Thanks to its flexible and editable design, you can customize the look and feel of this professional resume template to precisely fit your branding needs. Available in both Word and Adobe files, it also features print-ready files, high resolution, and A4 page sizes.
Make your name, experience, and skills standout with this professional resume template Word file! The template features readable typography and headlines to break up a viewer's reading cadence. It allows all types of professionals to edit and customize their presentation to potential clients and employers. 
This allows you to be quick on your feet and apply for a vast range of possible job opportunities. This polished resume templates document set features 18 files in all: six Word files, six Adobe Illustrator files, and six Adobe Photoshop files.
This best MS Word resume template will provide you with a professional and polished look when you hand in your resume to any potential employer or client. 
Unlike some other two column resume templates, this selection uses extra visuals to get your strengths across, such as using a horizontal bar graph to display your various skills in certain areas. 
Overall, it allows you to make a very good impression and customize your message, so you can even tailor your resume to fit your branding. It comes with two color versions, well-organized layer groups, and free fonts.
Show your leads, potential employers, and prospective business partners that you're serious and mean business with this clean resume and cover letter template. This MS Word resume template comes with three, unique color versions that spruce up your presentation and add color contrast to the mix. 
Know that you're always in control with this template due to its fully customizable and editable options. Make certain that your brand messaging aligns with the finished, overall look of the template. Even beginners can edit this simple template like the pros can!
Grab the attention of your possible employer and never let it go with this amazing template. Work with this versatile resume template with MS Word files, as well as Adobe Illustrator, Adobe InDesign INDD, and Adobe PSD. 
Make your leads and prospects take you seriously when you present them with this highly professional template that demonstrates that you're a serious player in your industry. The ability to quickly edit and customize this template to your taste is another big benefit, as you can make your work history and skills stand out more efficiently.
If bright colors and vibrancy are to your liking, then you'll love this simple resume template Microsoft Word file that lets you hand off your resume in one of four, unique color schemes. As a result, impress future employers by presenting your personal brand as a force to be taken seriously in your industry. 
Never worry again about the prospect of losing a job opportunity because you handed in a less-than-professional resume! Another benefit of this template is the ability to edit and customize its design and copy the way you see fit, so you're always in control.
Boasting five, unique color variations, this resume template set is just what professionals need to make a great impression. With high resolution, print-ready files, and complete customizability, this is the template for the professional who wants to be taken seriously. It features A4 page size, and well-structured layers, and well-organized layer groups.
Featuring a clean, minimalistic and black-and-white color scheme, this two-page resume template Word formatted design is just what you need to impress any potential employer.
It's versatile resume template that comes in four, distinct file formats: featuring Microsoft Word, as well as Adobe Illustrator, Photoshop PSD, and Adobe InDesign INDD. To help you get the job you want, this resume is also fully editable and customizable. Tailor its design and look to your brand and voice for extra impact!
Keeping things simple and minimalistic, this professional resume bundle set is ideal for situations when you need to show your best to a prospective employer. 
It comes with AI Illustrator and Photoshop PSD graphics files already included. In all, you receive 40 files: 10 Adobe Illustrator files, 10 Adobe Photoshop files, 10 Microsoft Word Doc files, and 10 Microsoft Word Docx files. 
What makes this bundle set so attractive is that it's customizable in either Word, Illustrator, or Photoshop. This means you can edit its design and look to your preferences, so your branding is always on point.
This is one of the best Microsoft Word resume templates to start with—when you need a professional, customizable design. It's a simple resume template with both MS Word and PSD files inside.
It includes all the sections you need (such as Name, About Me, Experience, Education, and Skills), within a clean, organized design. It's very easy to edit. Just add your information, polish your wording, and set your typography, then change the colors, make final adjustments to the layout. You're ready to print.
Here's a resume Word / CV template that's got a super clean design. It features a modern look, with sections for highlighting your summary statement, experience, education, references, skills set in simple infographics, social media site to find you, and more.
Use this design set to quickly make your resume and cover letter stand out in three ready-made color choices. It comes with professional files in Adobe Photoshop, Illustrator, or InDesign format, and features a popular MS Word template set as well.
This is one of the best resume templates for Word, formatted with a simple style. It's a great choice to use. It's got a pared-back design style with a minimalist aesthetic. Feature area to include a simple brand mark, next to your name and personal contact info. 
Showcase your professional experience, skills, in this clean simple and professional resume design. It also includes a matching cover letter. Both pages are flexible, professionally organized, and can be customized quickly.
This is one of the best Microsoft Word resume templates on GraphicRiver. It comes with professional MS Word files in DOCX format, as well as other popular file types, like PSD, EPS, and INDD. They're ready to work with quickly and edit to your needs. 
With a beautiful, clean design this multi-column resume template features standout areas for your summary statement, brand, all your work history, and more. Grab this simple, professional resume design and use it to land the next job you apply to! 
Here's an exceptional Microsoft Word resume template. The contemporary design features a solid-colored background and a border of diagonal stripes. You can, of course, change the color scheme to better suit your personality and the job you're applying for. Selective use of icons adds to the visual interest. 
This package includes layouts for the first and second page of your resume, with additional resume page templates available from the designer. The included cover letter template can be used for a thank-you letter as well.
This template is compatible with Microsoft Word, as well as Mac Pages, Photoshop, and Illustrator.
This is another clean, minimalist resume template, but the restrained use of bright color makes it pop. 
Four full pages include a two-page resume template, a page for references, and a cover letter. You'll have more than enough room for a detailed job application.
This template set comes in EPS, Ai, and DOCX formats so you can customize as you go. Choose from either A4 or US letter size. Layered files make this template easy to edit.
Modern CV Template has a nice pop of color to make your resume stand out in the resume pile. The resume comes with a matching cover letter. The resume template and a cover letter template can be completely edited. This template can be edited in Microsoft Word, Adobe Photoshop, and Adobe Illustrator. This resume has an expertise skills section to show your hiring manager what you excel at.
Clean Resume has nice color blocks to draw attention to your resume. Easily add an image of your choice into the image placeholder. The clean resume template can be fully edited. This template also has nice sections including an expertise section and key skills section. Edit the Clean Resume in Microsoft Word, Adobe Photoshop, or Adobe Illustrator.
Professional and Clean Resume is fully editable, so you tailor your resume to the job you're applying for. This template comes with a resume and cover letter template. This resume also has an interests section so you can show that your interests align with the job you want. The Professional and Clean Resume template features a professional design. This template can be edited in Microsoft Word, Adobe Photoshop, or Adobe Illustrator.
Junior Resume is a single page resume template that's easy to edit. It comes with a matching cover letter. This resume is great for someone who speaks multiple languages because there's a languages section. This resume is divided into nice and clean sections to make your resume easier to read. Junior resume template comes in A4 and US Letter size and is print ready. This template can be edited in Microsoft Word or Adobe InDesign.
Where to Find the Best MS Word Resume Templates? (Envato Elements vs GraphicRiver)

We've just shown you two lists of the best professional resume templates for Word, one from Envato Elements and another from GraphicRiver. Which source should you use for your resume?
That depends.
If you think you've found the perfect resume template for the job you're targeting, then you'll have to purchase it where it's available. While some items may be posted on both Envato Elements and GraphicRiver, this isn't always the case. 
If you're not attached to any particular resume template design, then your decision will boil down to whether you want to pay a flat fee for unlimited downloads, or if you'd rather pay a la carte. 
Envato Elements makes sense for you if you think you'll be using several Microsoft Word resume templates. You're also better off with Envato Elements if you want to use premium fonts, images, and icons other than the ones already included in the template. If that's the case, then Envato Elements is your most cost-effective option.
A few other benefits of using Envato Elements include:
You aren't limited to a single design as you can download as many resumes or CV templates as you need and use a different one for each job application.
You can easily customize the templates to your liking with other creative assets from Envato Elements. For example, you can easily download a beautiful and elegant or modern font to use with your resume or CV.
You don't have to worry about complicated licenses and wonder if you can reuse the same template again. Envato Elements makes licensing terms incredibly simple.
On the other hand, if you only need one template and you're happy with fonts and icons that come with it, then GraphicRiver is where you should be looking for your Word resume template.
How to Quickly Customize a Professional Resume in Word
Once you've found your perfect resume template, it's time to customize it to not only reflect your education and skills but also your personality.
Luckily, customizing a Word resume template is easy. Simply follow the steps below and you'll have created an outstanding resume. We'll use the Envato Elements professional resume DOC, Modern 2019 Resume Template Package for Word, as an example.
1. Add Your Own Information
The first thing you should do is replace the dummy information with your own. All you've got to do is click on the resume section that you want to edit, select and delete the dummy copy, and start entering your own information.
2. Add Your Logo
If your resume template came with a logo placeholder, you'll want to make sure to replace it with your own logo. This will allow you to establish your personal brand and make you more recognizable. To replace the existing logo, first, click on it and delete it. Then, click the Insert tab, select Pictures and choose Picture from file. Browse to the folder that's got your logo image and insert it into your resume template.
3. Customize the Colors
With that out of the way, it's time to customize the colors that your MS Word resume template DOCX uses. You can easily do this by right-clicking on the shape or element and selecting Format Object. You'll notice a sidebar to your right where you can click on the Fill tool and choose your preferred color.
4. Adjust the Fonts
Finally, you can tweak the fonts by selecting a paragraph and choosing a new font from the drop-down menu. Then, do the same for the headings. Alternatively, click on the Design tab, select Fonts in the ribbon, and then choose a set of fonts that you like from the drop-down menu. This allows you to change fonts in one place only, and the changes will be reflected across the entire professional resume doc.
You've just customized a resume template!
How to Write and Design the Perfect Resume
Even if you've bought a professional resume template, you still need to know how to get the greatest benefit out of them. We've got some stellar tips on creating the perfect resume below, from how to write a great to resume to how to customize it in Word.
Before jumping into them though, review this tutorial that covers the overall process of making a great resume: 
Now for the quick-fire resume tips: 
1. Make Your Resume Fit the Position and Opportunity 
Ensure that you're molding your resume to match exactly the type of position the employer is searching for. Incorporate info about yourself that pertains to what they need. Tell a compelling story on your resume and make sure your skills and work history stand out.
2. Rely on Columns

In resume design, you want to make it easier for your readers to quickly see the most important areas. Guiding their eyes by using columns is vital to helping them get the most important takeaways. Be sure to structure your resume well. You can see the use of clean design and clear columns in the resume design shown below: 
3. Use Sidebars and Call Outs

Your aim has to be to make the most impressive info pop out at your readers. Therefore, use a sidebar to list all of your noteworthy successes and achievements; a call out right in the middle of your resume's copy focuses attention on a significant detail while also breaking up the chunk of text.
Learn how to customize your Word Resume template further: 
4. Be Different

Something as simple as altering the orientation of your professional resume doc, or the use of infographics, will make you stand out in a heartbeat. Don't be afraid to make your resume more creative. Also, be sure to spend time to add your personal branding to your resume. 
The creative Word resume template design below allows for simple personal branding and use of standout infographics while keeping with a minimal, professional aesthetic.
5. Aim for Brevity

Don't write too much on your resume since it should match your years of experience. For instance, if you're still in your twenties, then one page will suffice. 
If you've been working a while, still don't include everything you've ever done to avoid losing the attention of your readers. Instead, curate your work experience so that it fits the job you're applying to and keep it to no more than two pages.
Learn More About Making Great Resumes

The tips above are a great starting point that'll allow you to customize your MS Word resume template. However, the basic tips will only get you so far. If you want your resume to stand out and get you not only noticed, but also invited for a job interview, you'll need to put in the extra effort and learn more about making great resumes.
We've got dozens of resume tutorials on Envato Tuts+ that'll help you take your resume to the next level. Here are a few of our most popular resume tutorials to get you started:
Discover More Great Resume Templates for 2019


The Word resume templates above are only a sampling of the templates available on Envato Elements and GraphicRiver. Ready to explore some more?
Whether you're looking for simple, colorful, or one-page resume templates, the following roundups will help you find them:
Get Hired With a Great Microsoft Word Resume Template!

Resumes and CVs are your first introduction to potential employers. That's why you've got to sell yourself persuasively when you submit your resume. 
There are plenty of ways to create that best resume or CV for you. Browse through our wide selection of the best resume templates for 2019 from Envato Elements, or  Envato Market. Grab the one that's right for your work experience and portfolio. Then, customize it quickly and use it to land that dream job you're aiming for! 
Editorial Note: Our staff updates this post regularly—adding new Microsoft Word resume templates and CV templates with the best, professional designs.