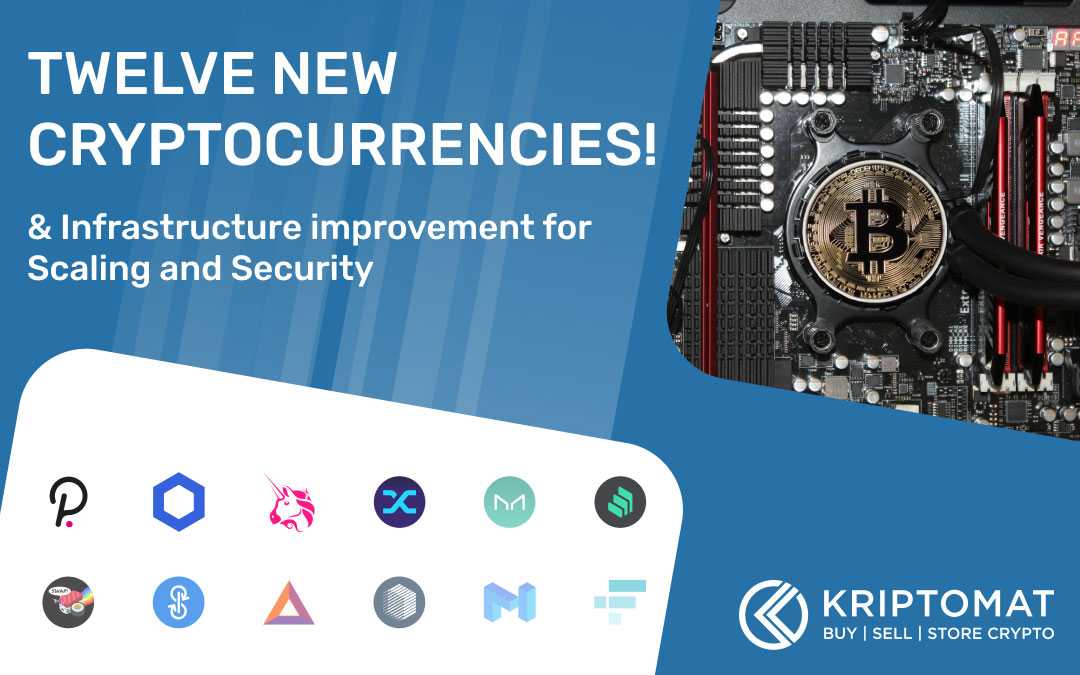 A New Way Forward: Stronger Security, Better Scaling, and 12 New Cryptocurrencies
[ad_1]

Here at Kriptomat, we are constantly striving to improve. Even though we offer the most user-friendly experience available, we know there are always innovations and upgrades to be made.
It is our pleasure, after working tirelessly, to introduce you to a vastly improved Kriptomat, packed with security and scaling solutions that will propel us into the next generation of crypto interaction.
So, what exactly is changing?
For starters, Kriptomat is migrating to a completely new infrastructure. Our new infrastructure will boast some truly incredible security and scaling improvements, allowing us to provide an enterprise-grade platform for trading, moving, and storing digital assets.
We've also made it a mission to provide better clarity to our users. With our new overhaul, when making a crypto withdrawal, you will now be able to see the exact amount of coins that the receiving wallet will get. This should offer a greatly improved experience over our previous system, which calculated network and transaction fees in the background — leaving you guessing how much would actually be sent.
Security and trust are two of our most important values, and it shows in our due diligence when looking at partners. We follow a very stringent selection process, and only market leaders provide the level of security and quality we deem necessary for our users.
To that end, we've selected a custody provider who offers bleeding-edge security tech alongside comprehensive insurance coverage. The safety of our client's digital assets is our primary concern, and this custodial service delivers the security they deserve.
Another major benefit that comes along with our new and improved scalability is our increased capacity to quickly and effectively list new coins/tokens.
With our new robust infrastructure in place, we're able to vet and implement new coins/tokens faster than ever before.
Because of this, we're proud to announce our first batch of new listings with full trading and wallet support (listing will happen within the range given):
Polkadot (DOT): 25.—29. Jan
Chainlink (LINK): 1.—5. Feb
Uniswap (UNI): 1.—5. Feb
Synthetix Network Token (SNX): 8.—13. Feb
Maker (MKR): 8.—13. Feb
Compound Token (COMP): 8.—13. Feb
Yearn Finance (YFI): 8.—13. Feb
Sushi Token (SUSHI): 8.—13. Feb
Basic Attention Token (BAT): 16.—21. Feb
Republic (REN): 16.—21. Feb.
Matic (MATIC): 16.—21. Feb
FTX Token (FTT): 16.—21. Feb
Additionally, we're adding full wallet support to these existing assets:
EOS (EOS): 1.—2. Feb
Tezos (XTZ): 1.—2. Feb
Cardano (ADA): TBD (February)
With a renewed focus on security, safety, and functionality, Kriptomat is starting 2021 off right.
We believe the improvements and upgrades we've made are setting us all up for a very exciting year. The new levels of security and scalability we've reached will bring us into a future filled with constant opportunity, and we're excited to experience it with our incredible community.
Stay tuned — we're just getting started.
[ad_2]

Source link