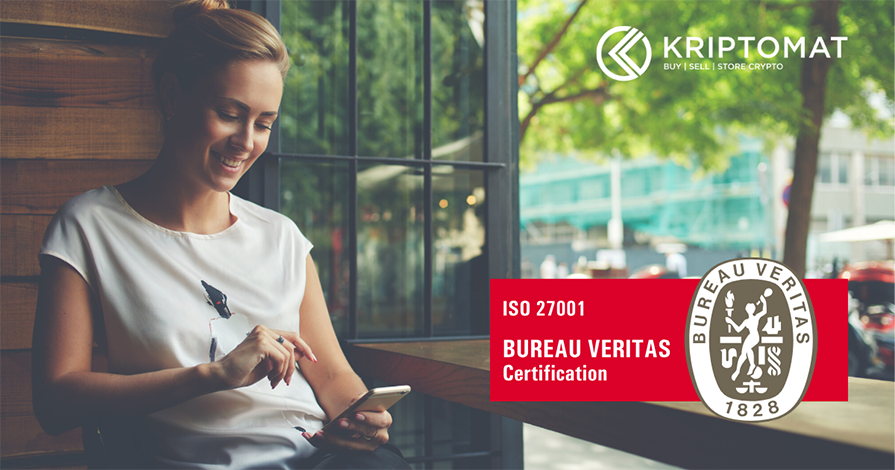 Kriptomat Has Been Awarded the ISO Information Security Accreditation
[ad_1]

We are proud to announce that following an independent audit based on 114 criteria set by the International Organization for Standardization (ISO), Kriptomat has become the first European cryptocurrency exchange to receive an ISO/IEC 27001:2013 certification.
ISO 27001:2013 is an internationally recognized standard that defines a framework of rigorous operational and technological standards for Information Security Management Systems. By obtaining this certificate, Kriptomat has proven to be compliant with the highest of international information security standards. 
"Information security is one of our core values because our mission at Kriptomat is to make cryptocurrency available to everyone in a safe and trusted environment," said Dejan Davidovic, COO of Kriptomat. "We sincerely believe that the success and further adoption of cryptocurrencies, especially among the institutional investors and economic institutions, is directly related to security and reliability."
ISO 27001:2013 develops best practices across 164 nations, ensuring a systematic approach to managing sensitive company assets such as information, people, processes, and IT systems.
"The Kriptomat platform has been built with the ISO 27001:2013 framework at its core, so obtaining the certificate has been a logical next step for us," says Jaka Erjavec, CTO and Head of Information Security at Kriptomat. ". By going through this process we have publicly committed ourselves to follow the best information security industry practices across all of our services."
By obtaining the ISO 27001:2013 certificate, Kriptomat is one of the few cryptocurrency platforms in the world to have been awarded this accreditation. Obtaining this certification demonstrates Kriptomat's commitment to the safety and security of our users. 
"For now, we are a relatively small exchange platform, but we are building a strong and safe corporate infrastructure that puts our users' well-being first. That's why we invest so heavily in technology, support and compliance," says Srđan Mahmutovich, CEO and Founder of Kriptomat. "It is incredibly important that our users recognize that our team is filled with dedicated, highly-skilled internationally-experienced professionals with a sincere passion for crypto and blockchain."
In the process of winning this certification, a comprehensive external audit was conducted by Bureau Veritas, a recognized world leader in testing, inspection, and certification services.
[ad_2]

Source link